Switching to The CMEC in Our Homeschool
Disclosure: Joyfully Domestic may earn a commission for purchases made after clicking links on this page. View our disclosure policy for details.
This year, I switched our family to using the The CMEC for the base of our homeschool curriculum. I'm sharing a brief review about The CMEC and reasons why we switched our homeschool plans this year.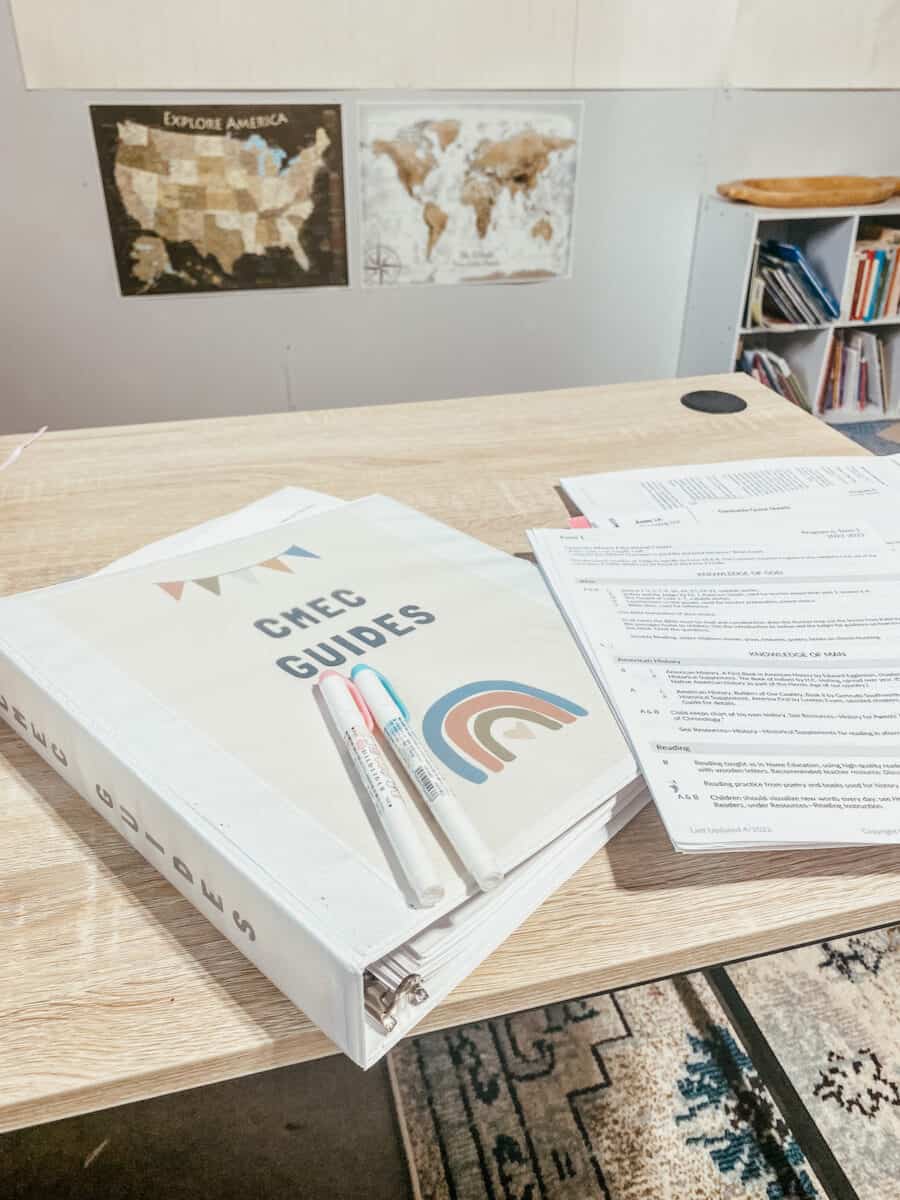 Why We Moved to The CMEC
Throughout the years in our homeschool, we have tested out a few different curriculums and methods. And after some trial we finally settled on the Charlotte Mason method.
But we weren't fully emerged in all of Charlotte Mason's principles initially. Basically we eased ourselves in and we were more of a CM inspired homeschool family in the beginning.
Fast forward to last year and I started to really think of our homeschooling method. I was at a point where I even considered switching to a more Classical method of homeschooling.
I loved the idea of a Charlotte Mason education, but getting a good balance on teaching a variety of students at different levels was becoming challenging.
This was until I discovered The CMEC.
One thing that I really loved about this program is that it follows the philosophy and methods of Charlotte Mason the closest of all of the other programs I've found over the years.
And there were some other things that I struggled with…and I'll get more into those later.
But first…
What is The CMEC
The CMEC or Charlotte Mason Education Center offers a full course of study for students in 1st-12th grade. There is also a wonderful Kinderleben guide for the younger years (before age 6).
The following is also taken from their website:
This is exactly what I knew that I needed. But before I dove in completely, I reached out to mothers who I knew were already using this program for their feedback.
All of them were positive and glowing reviews.
And so, I requested an information packet from The CMEC. (You can do this from the homepage on their site.)
This program does come with a fee. But that fee covers the entire family and is not per each student.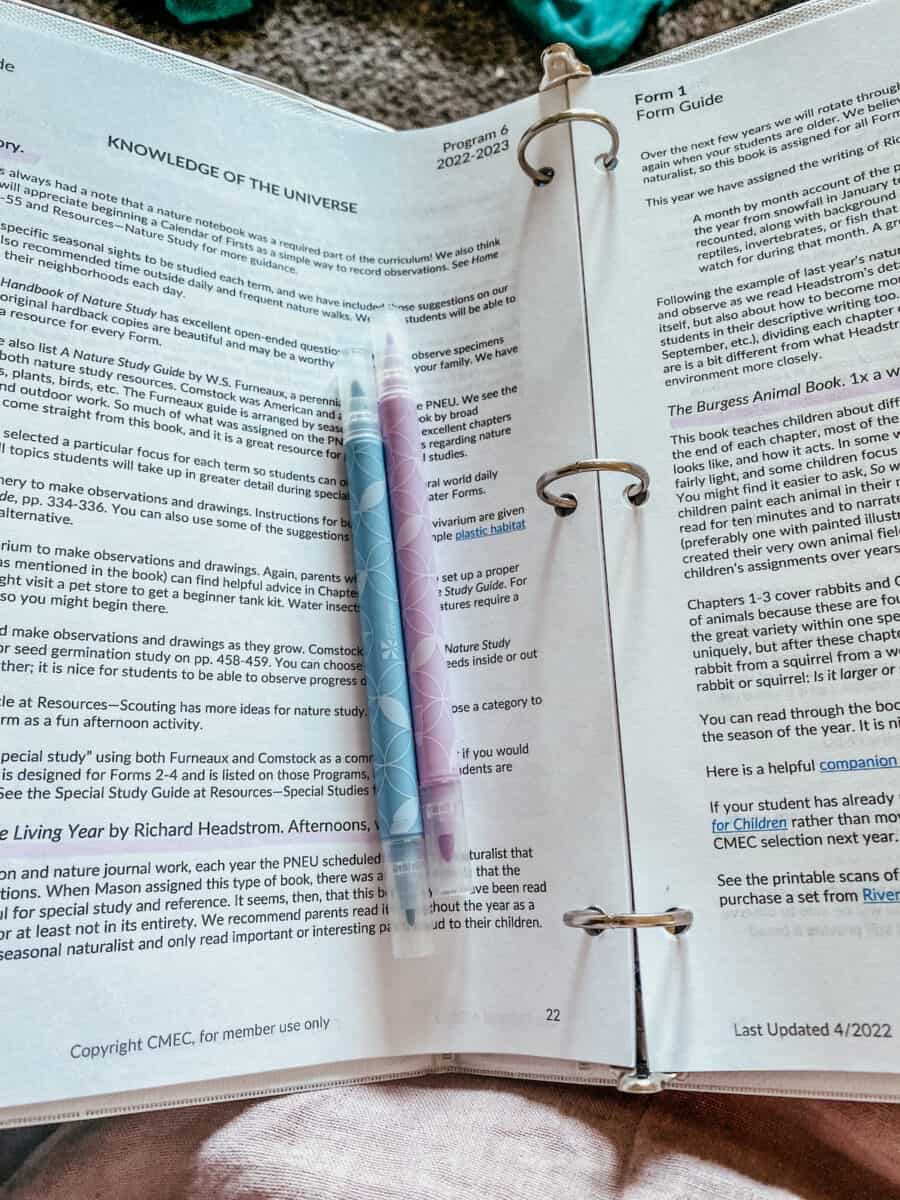 Favorite things about the CMEC
My first main reason for making the switch is because of how well it aligns with Charlotte Mason's philosophy towards education.
And while it is not a Catholic based Curriculum, I tailor it more towards what will work for our family by supplementing certain texts.
A second and HUGE thing that I absolutely love about this program, is that they make it easy to combine subjects among my students.
So for example, we will be combining our morning time work, Literature, History, Science, and a few other common subjects this year.
This makes things simpler for teaching a variety of Forms at the same time.
Another big thing within this program that I am gushing over… they have art instruction videos!
Arts & crafts aren't really my forte. And if you're struggling with teaching your children these essential art skills, you'll love this!
As of right now, there are brush drawing, chalk drawing, and clay modeling art instructions and guides on the site. This is so incredibly helpful!
🌵A few more favorite things about The CMEC:
there's several ideas and guides for handicrafts! Again, not my skill level…so this is extremely helpful!
Mother's Education Course! They provide educational training courses for the mother-teacher. How cool is this? I'm all signed up and excited to jump into the first course this fall.
the Kinderleben guide is amazing for the early years (before age 6).
Form leaders – teachers, mothers, mother-teachers – who are experienced in using this program are available for extra help & support as needed.
Final thoughts
As you can see, this program for following the Charlotte Mason method of home education is invaluable. I'm excited to dive in to our first year using The CMEC!
There are so many amazing resources that I will be happy to share my thoughts on as we become better acquainted with the program.
This program is perfect for anyone who is looking for a little extra guidance with Charlotte Mason methods in the homeschool.
---
Where would you like to start?