2022-2023 Homeschool Curriculum (based on Charlotte Mason)
Disclosure: Joyfully Domestic may earn a commission for purchases made after clicking links on this page. View our disclosure policy for details.
This is our 4th year of homeschooling with the Charlotte Mason method. And in the past, I haven't shared what we are using for curriculum or books.
I've had some of you reach out and ask what we are using for certain subjects, so I thought it would be fun to share our curriculum for this school year.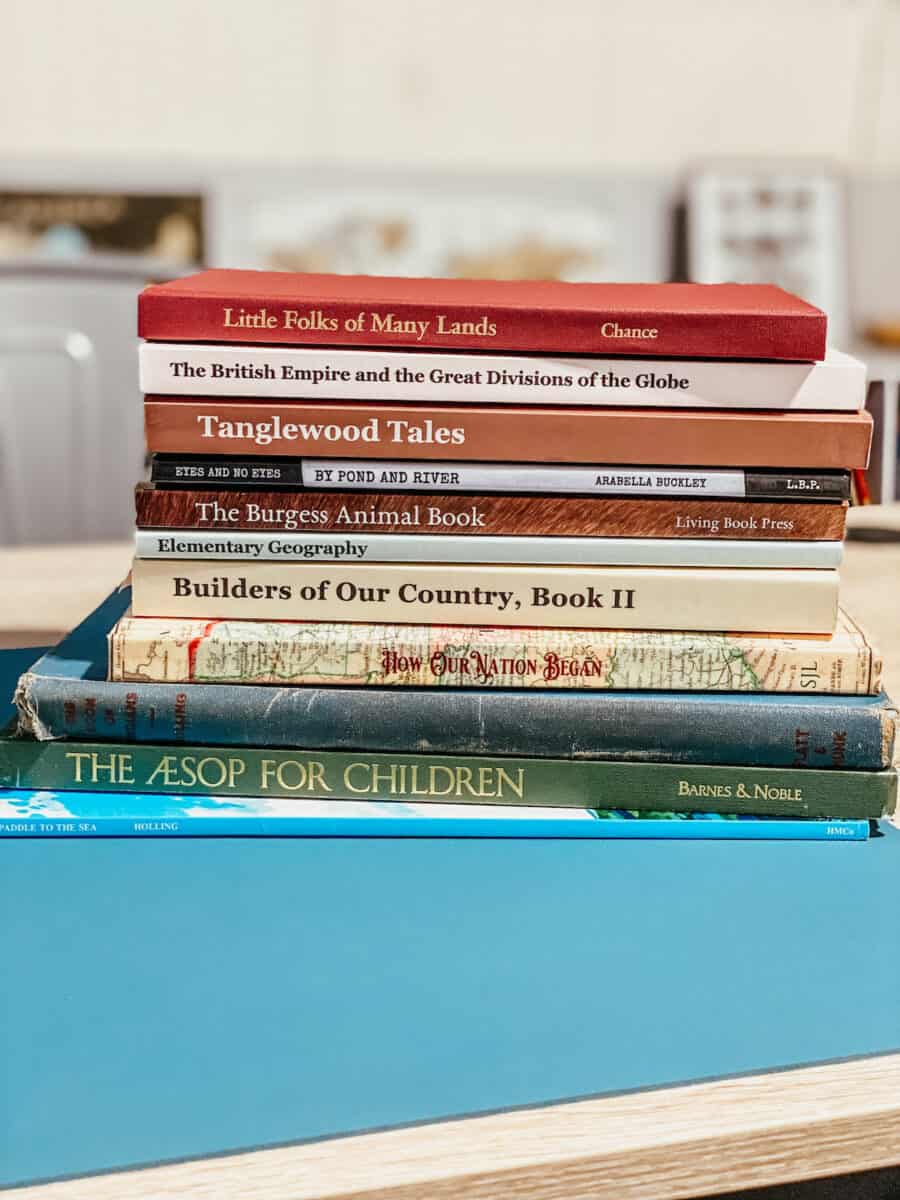 This year we have switched to using The CMEC in our homeschool. I am following nearly all of their suggestions for books, with a few exceptions. And I'll cover all of that in this post.
In case you missed it, here's my post explaining about why we moved to The CMEC. I hope that you will consider using them in your homeschool. This has been the BEST resource for using the Charlotte Mason method in our homeschool.
And for reference, I have students in Form 1B (1st grade), 1A lower (2nd grade), and 1A upper (3rd grade) this year.
Some of the books we are using are shared in common as a family and other's are more grade specific.
Common Subjects
These are the subjects and books that we use together as a family. We do start off our school lessons with common family time or morning time as many refer to it. During this morning block, we are cozy in the living room and snuggled together on the couch.
This is where we begin with our catechism & bible study lessons. We rotate through a variety of these things throughout the week, so please note that we do not do all of these things each day.
For catechism this year, we are using the Our Holy Faith Series from St Augustine Academy Press. We are really enjoying the format of this catechism series and we've had a lot of great discussions as a family.
For supplementation that pairs really well with our catechism lessons, we are enjoying Angel Food for Boys and Girls.
We are also using the Child's Bible History by F.J. Knecht a couple of times a week.
In addition, we have this excellent catechism for family discussion on Sundays, The Catechism in Pictures. The pictures are beautiful and makes for a great picture study as a family alongside our catechism lesson. I highly recommend this book!
And also for a supplement, we like these Catholic Tales for Boys and Girls and More Catholic Tales for Boys and Girls.
We are also using the St Jerome School Songbook for learning new Catholic hymns.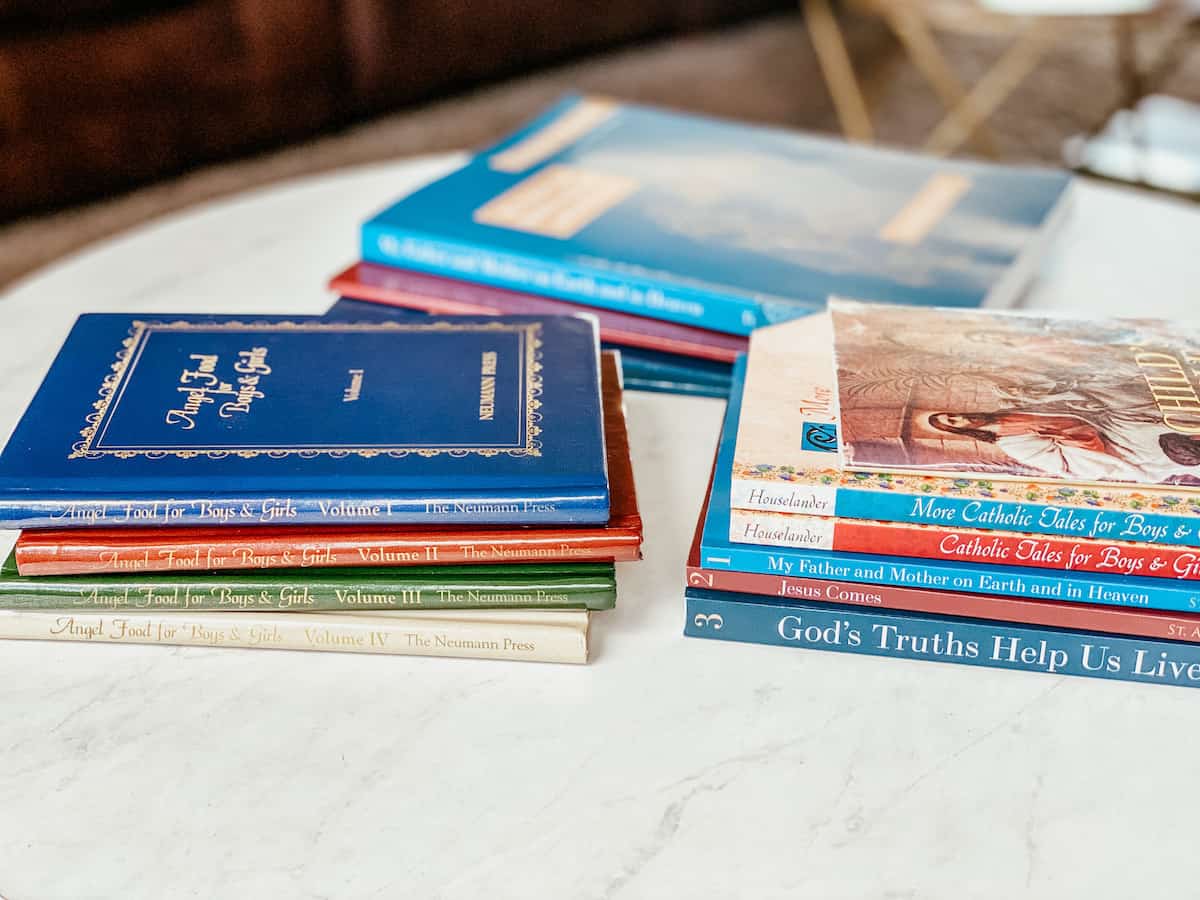 Literature
This year I decided to introduce myths into our homeschool. We had started with a few stories last year, but I didn't feel like my children were mature enough for those stories then.
And we didn't finish the school year with them.
Initially when planning out our year, I struggled with mythology in general. And I spent a lot of time in reflection regarding the readiness of my children for these concepts.
So, I had a conversation with our Bishop regarding myths, fables, and fairy tales in our homeschool. After his reassurance, I decided that we were ready for these in our home.
And they really do enjoy the Narnia series from C.S. Lewis, so we are ready to introduce these myths into our school lessons too.
So far, they have been well received!
Here's what we are using for literature spread over this year.
We are also rotating through several chapter books throughout the year. As there are way too many favorites to list, I may write up a separate post on chapter books in the future.
Poetry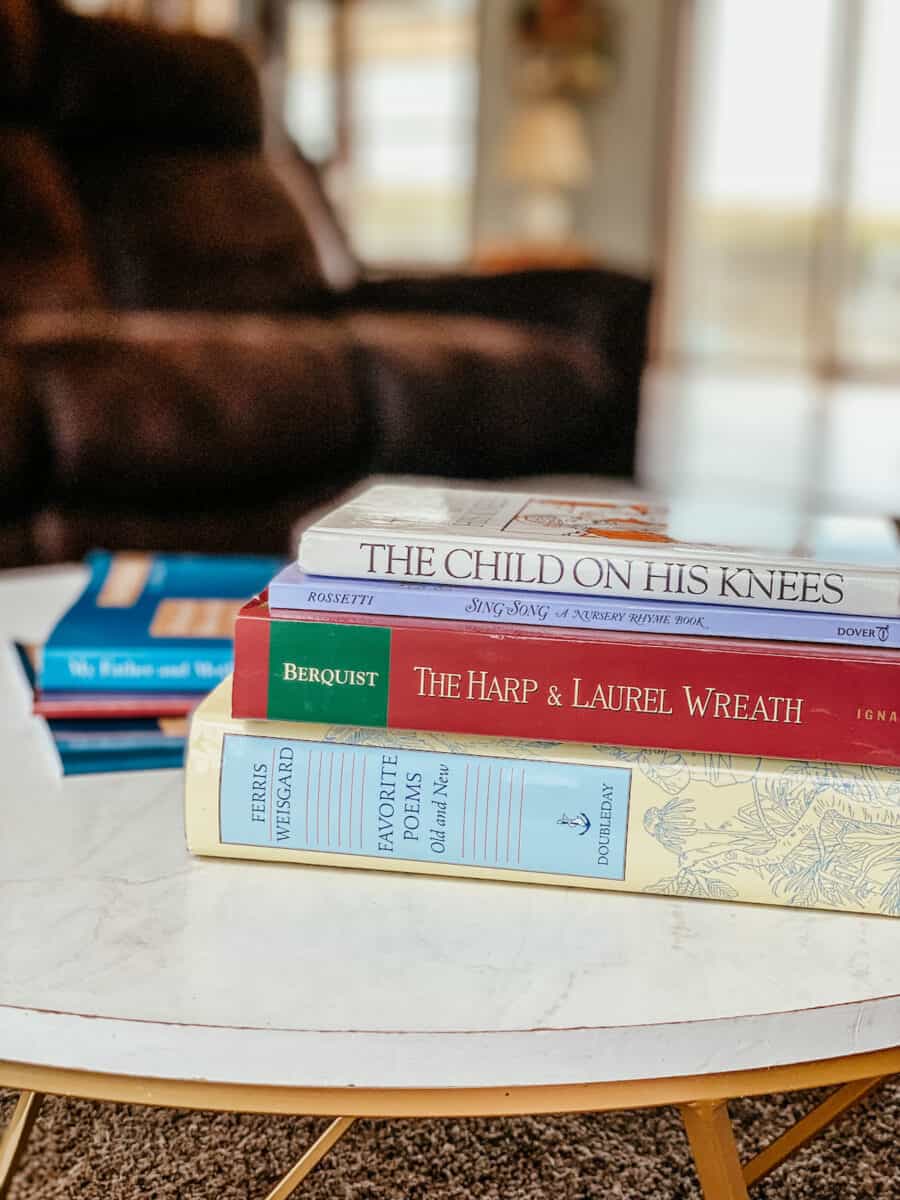 History
With our history curriculum, I wanted to make sure that we were including Catholic pieces of history specifically alongside of learning about American History before moving over to World History.
So we pieced together a few things with recommendations from the CMEC along with supplements from St Jerome's Library.
Here's what we are using this year:
Geography
We are following the CMEC recommendations for Geography this year and it's been excellent.
Here's what we are using for geography:
Math
Oh my goodness, let me just share with you how much I'm loving the math program we are using this year!
This year we have switched over to using the Charlotte Mason Elementary math series. And this is the first year that I've found something my children actually enjoy using.
Over the past years, we've tried various math books and curriculums, but this is the first that is enjoyable for both the student and mother-teacher!
Book 4 is new this year, and I've heard that book 5 is coming soon. We are loving them so far this year, I really hope that they'll continue to make this series going forward!
We are also using Paper Sloyd as part of our math block once a week.
This is also an excellent resource that I recommend for teacher prep before beginning The Charlotte Mason method of math instruction.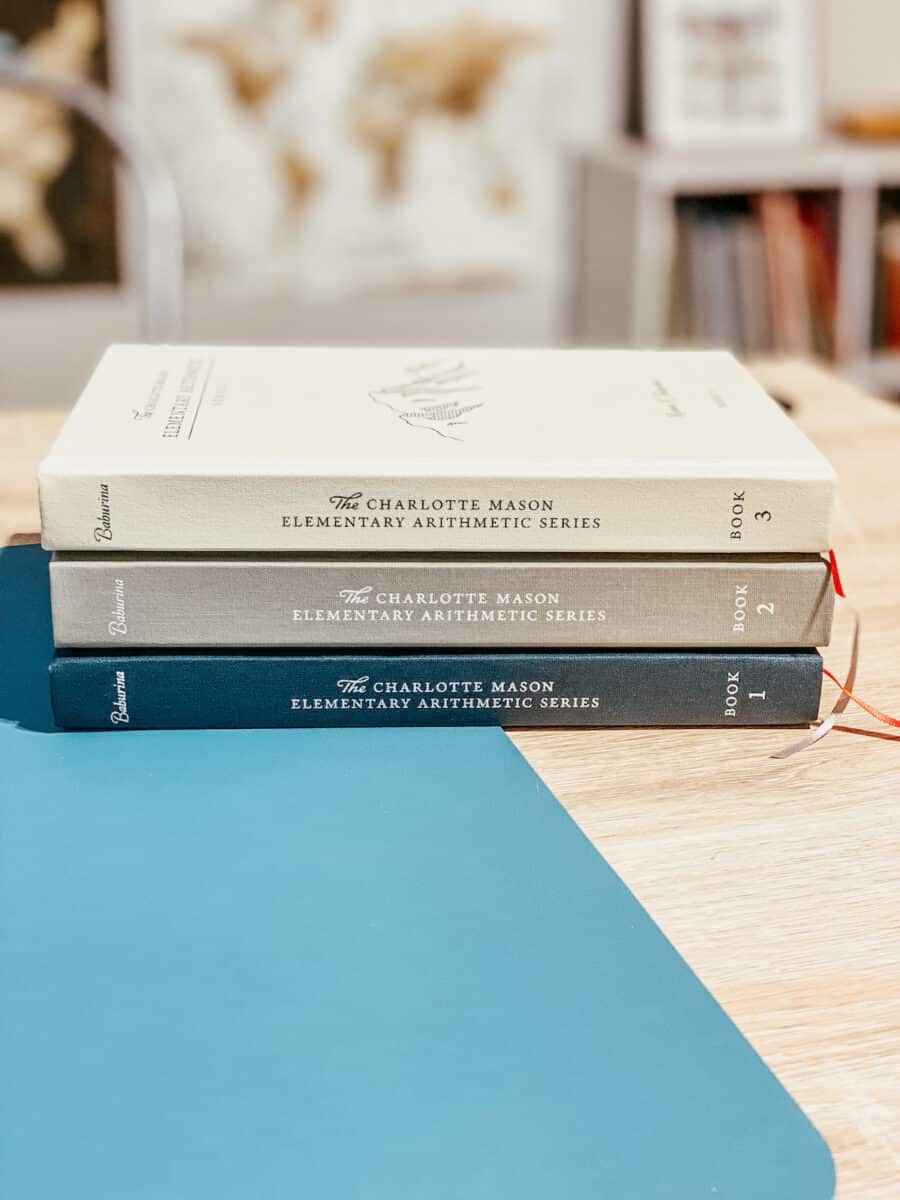 Reading
Charlotte Mason gives great instruction into her method of reading instruction inside of Home Education. We are also using the CMEC's recommendation of Discover Reading for instruction.
Initially we bought the Treadwell Readers, but have switched to using McGuffey Primer and Readers. My 1B student is thriving with these readers and absolutely enjoys them!
The Beacon Readers are another great recommendation.
For handwriting practice, we are using this Italics workbook.
My older students are using Primary Language Lessons – it is spread over two years.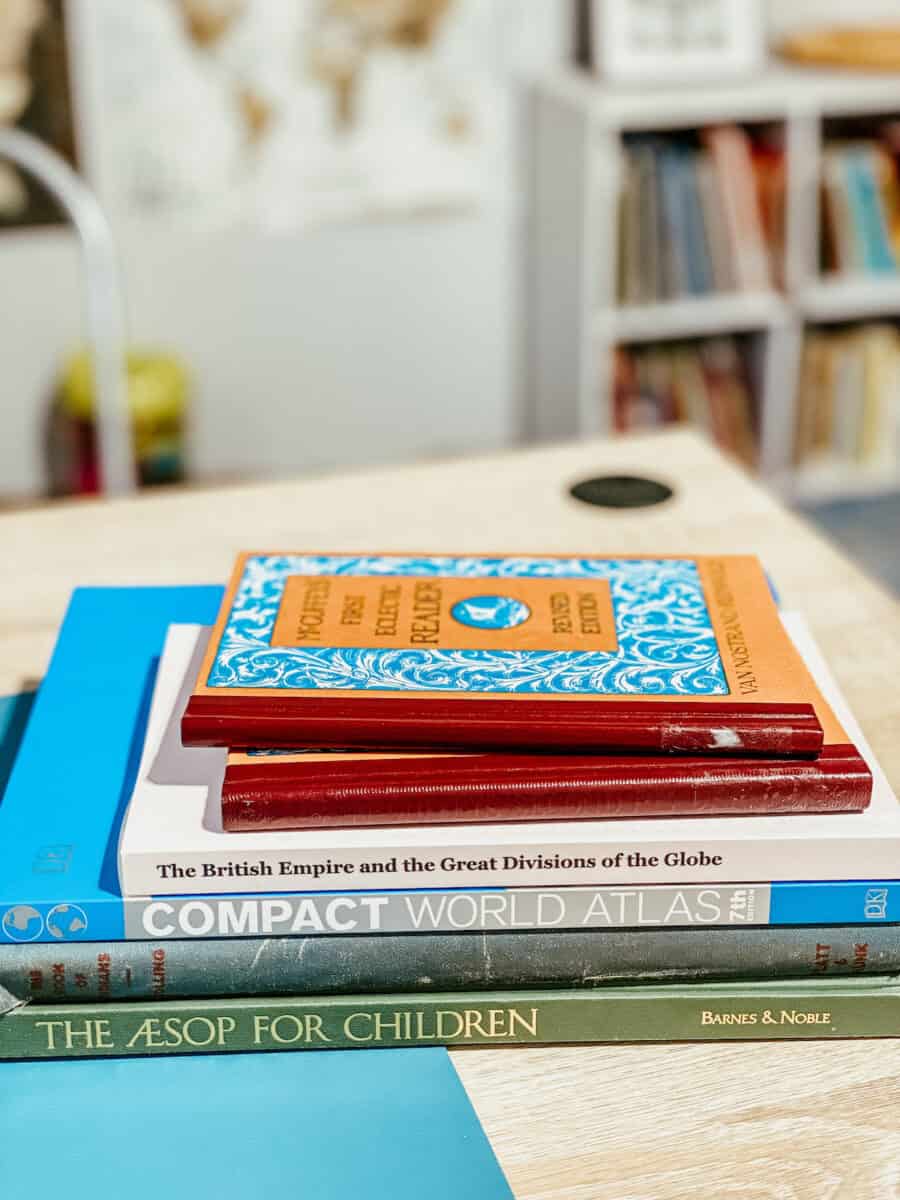 Natural History
More nature study reference books that we are using:
Additional Resources
Here are a few more of the recommendations that were recommended from the CMEC. These books are used as teacher resources for lessons. These are used in artist & composer study, art instruction, and other handicrafts.
I know that this book list can seem like a lot. But really it's not when we consider spreading the feast and the short lessons that Charlotte Mason recommended.
---
Where would you like to start?