DIY Floral Embroidery Hoop Wreath
Disclosure: Joyfully Domestic may earn a commission for purchases made after clicking links on this page. View our disclosure policy for details.
This super simple DIY embroidery hoop wreath is really easy to put together. And it only takes about 15 minutes…or less! Oh, and best part, it costs under $10 to make!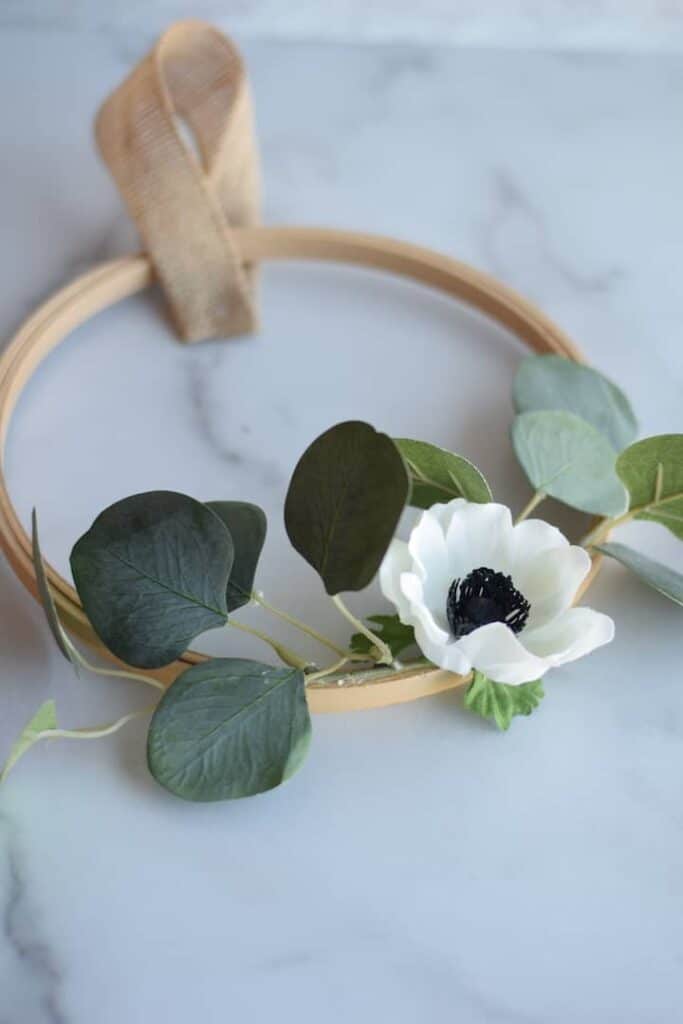 DIY Embroidery Hoop Wreath
In this simple tutorial, I will share just how I put together this really easy wreath.
And I'll share the price breakdown so you can put yours together, frugally.
As we are stuck inside with a little bit of cabin fever, this simple project gives us a bit of hope for the spring time!
I also made this simple DIY Spring Wreath recently for our front door, and using pink ranunculus.
But for this embroidery hoop wreath, I decided to keep it even more simple.
If you want to add more color or flowers, the total cost of the wreath will still be super budget friendly!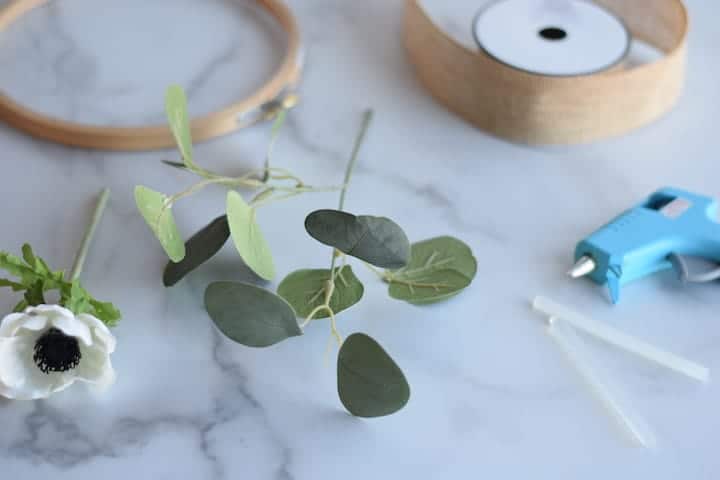 Items Needed for this Wreath
I purchased all of these items online from Hobby Lobby. Except for the embroidery hoop, which I ordered from Walmart online.
Embroidery Hoop – (8" diameter) $2.57 I wanted this one small, but they have a variety of sizes for close to the same price.
Eucalyptus Leaf Pick – Was priced $2.99, but I purchased on sale for $1.49
White Anemone Pic – $1.99
Natural Burlap Ribbon – (2") Was priced at $3.99, but I purchased for only $1.99 on sale.
Wire cutters
Hot glue gun & glue
How Do You Hang an Embroidery Hoop Wreath?
There are a couple of simple options when hanging an embroidery hoop wreath.
First, keep it extra simple and hang it by the hoop itself.
Or make a ribbon hanger, like I did.
I made it short and simple and glued it together with my hot glue gun.
Below are a few step by step images to help visualize what I did with the burlap ribbon.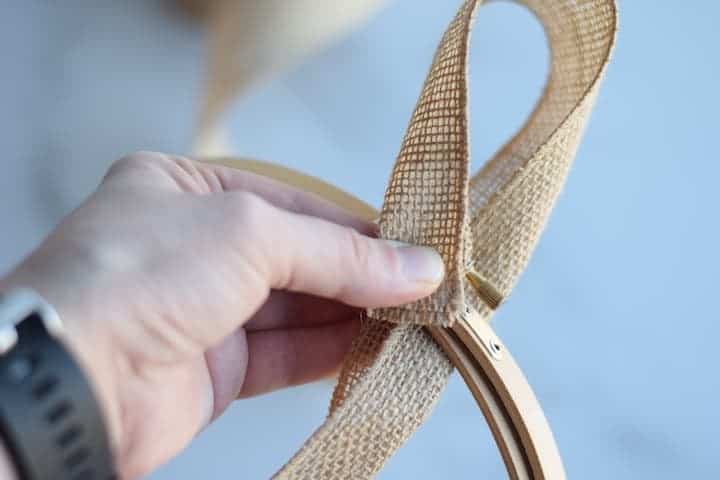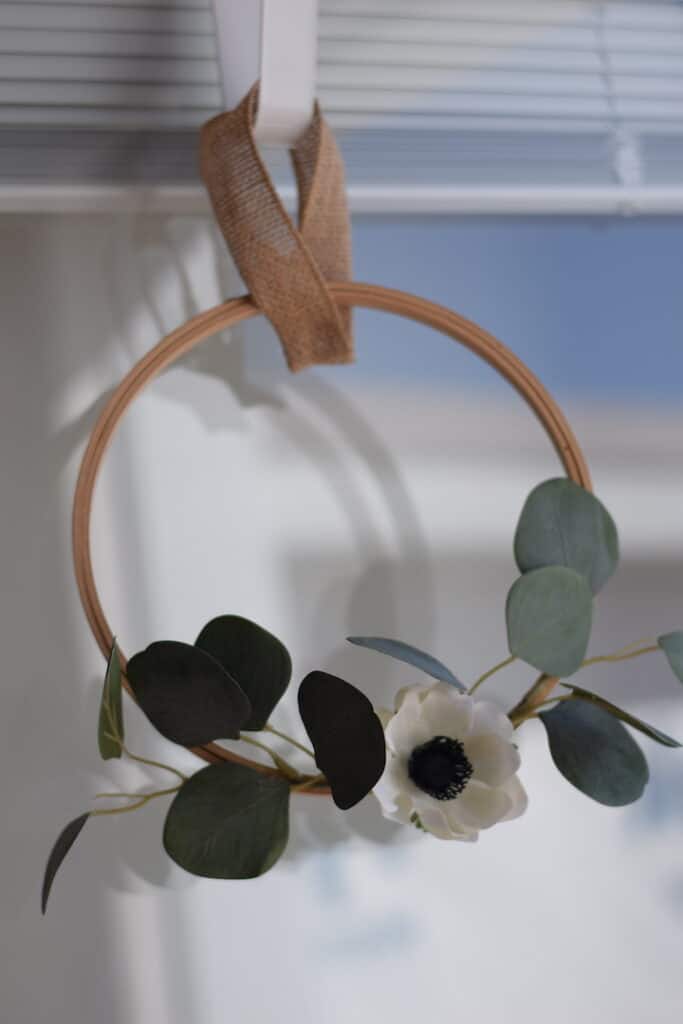 Then I simply hung it with a wreath holder for this image. This type of wreath isn't weather proofed.
So if it were to be used for as a front door wreath, I would keep it between a storm door and the front door.
Otherwise, it makes a great piece of home decor for inside!
Embroidery Hoop Wreath
This easy DIY Hoop Wreath can be made on a very frugal budget and in under 15 minutes. I put together this step by step tutorial for you to easily print.
Print Recipe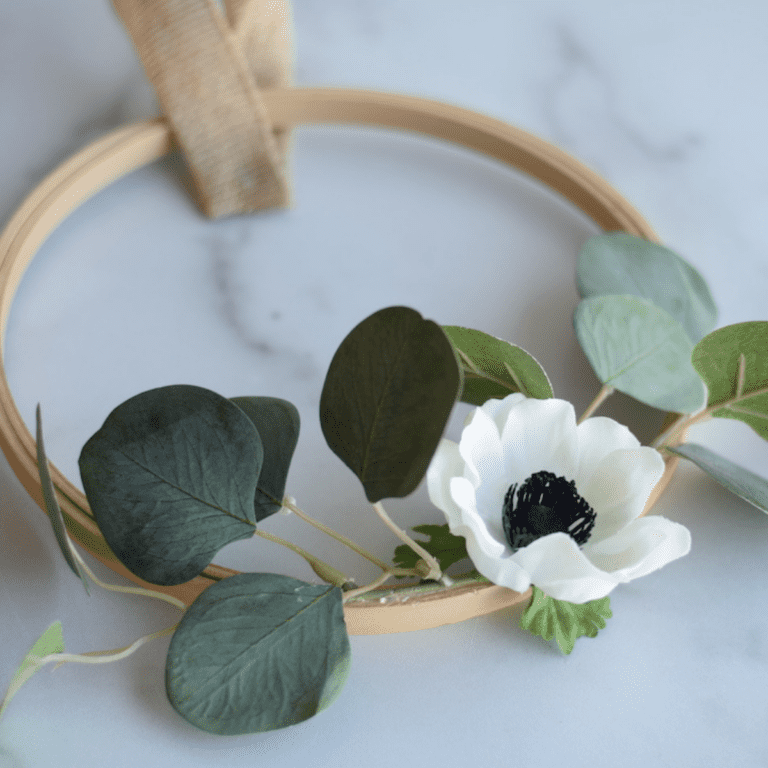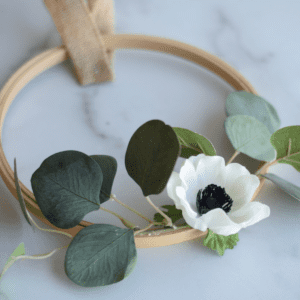 Ingredients
8 inch embroidery wreath

Eucalyptus floral pick

Anemone floral pick

Natural burlap ribbon
Instructions
Begin by using the wire cutters to carefully remove the floral piece between the base and stem. Also cut the eucalyptus in half.

Warm up the hot glue gun. When it is ready, use it go hold the eucalyptus and florals in place.

Measure and cut the burlap to your desired length. Take one end of ribbon and fold in half. Use the hot glue to hold in place. Take the other end of the ribbon and wrap it around the hoop wreath. Repeat the steps for the other end.

Allow to cool/dry completely before hanging the wreath in the desired location.