Disclosure: Joyfully Domestic may earn a commission for purchases made after clicking links on this page. View our disclosure policy for details.
The Season of Advent is just about here and its a great time to get prepared so that we can enjoy the season without distractions. This Advent Wreath DIY is simple to make and is fairly inexpensive.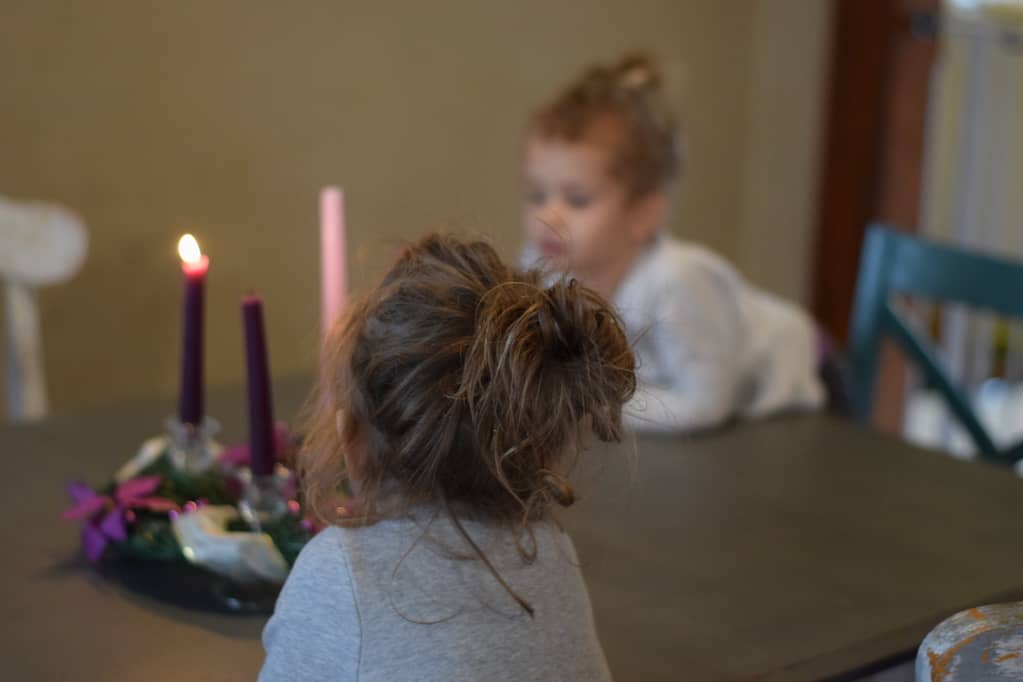 This post has been updated from the original publish date of December 2017.
I've included a printable instruction card and edited some of the product links that were no longer available. Some of the products I used in the original wreath are no longer available. However, the products I'm sharing are very similar to what I used.
Related Posts:
Advent Traditions in the Catholic Home
Simple Advent Wreath DIY
Let's start out with the supply list you'll need to make this advent wreath. I have links posted below to either the exact or similar items I used for making our advent wreath.
You can definitely substitute with any item you prefer or supplies you have on hand.
If you have a craft store near you, even better. We live over 2 hours from the big city, so I have to order online for the majority of my supplies. Or attempt to remember to purchase them on my stock up trips!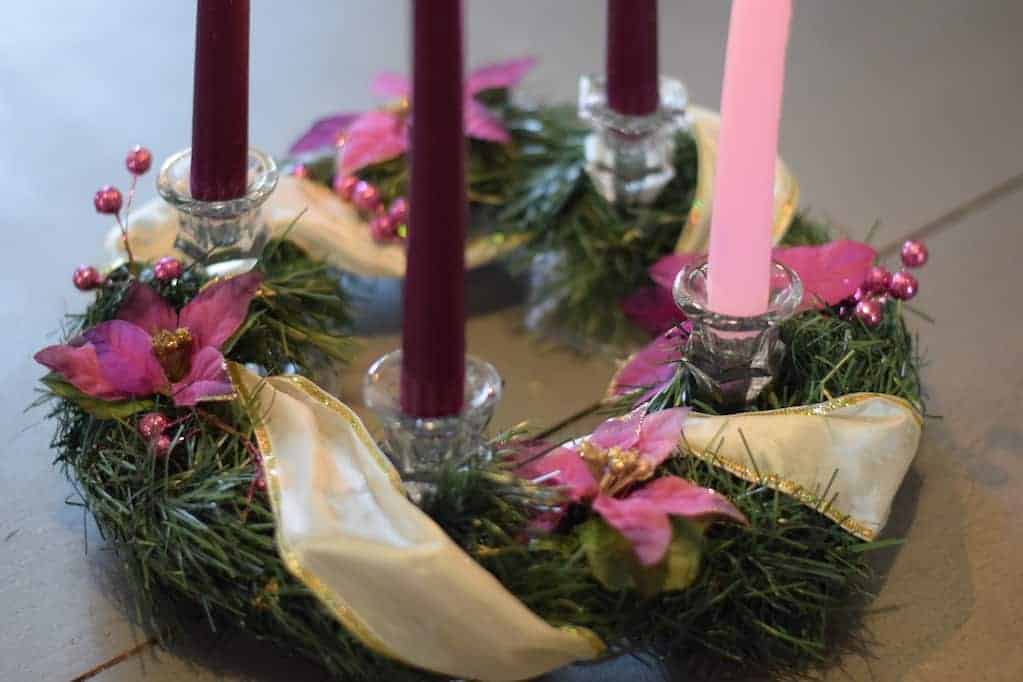 I used the following supplies to make ours:
Soft greenery garland (if you have a dollar store near you, check them out for this.)
Purple poinsettia flowers
4 candle holders
White Christmas ribbon
Glue gun
How to Make an Advent Wreath
This wreath is incredibly simple to make.
First, take your garland and wrap it around your wire wreath until it is completely covered. Use your hot glue to hold it in place.
Next, you'll take your white ribbon and wrap it around until you've found your desired placement. Secure it with a small dab of hot glue.
Using a little bit of floral wire or greenery ties, space out the candle holders as evenly in place as possible and secure in place.
Fill in empty areas of your wreath with you purple poinsettia flowers and use a little bit of hot glue to hold them in place.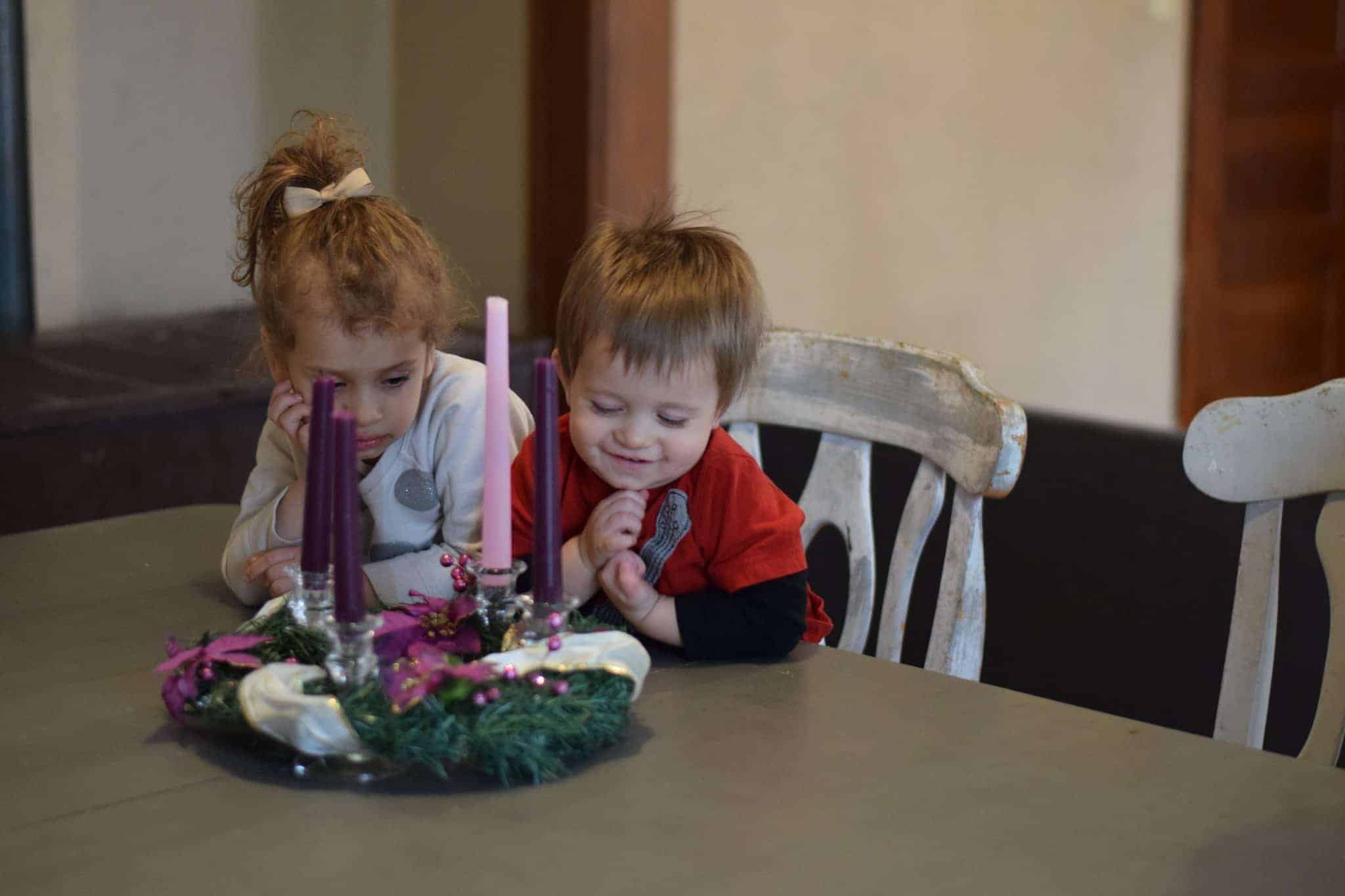 Add your candles and voila, you've made a super simple advent wreath.
This year, I think I will move my Expectant Blessed Mother statue to the center of our wreath as a reminder of Who we are anticipating this season.
Isn't it so sweet?