Advent Traditions in the Catholic Home
Disclosure: Joyfully Domestic may earn a commission for purchases made after clicking links on this page. View our disclosure policy for details.
A simple guide to Catholic Advent Traditions. A great way to prepare your family for the holy season of Advent with preparation prayers & devotions.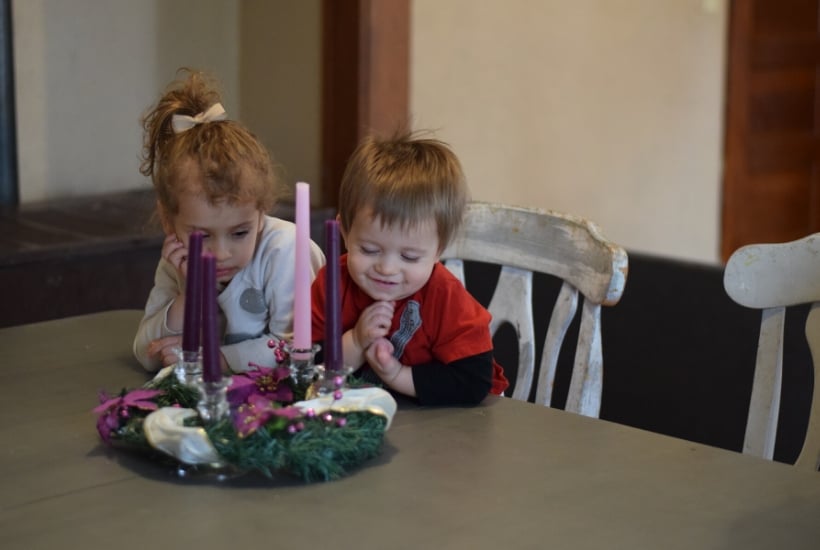 The first Sunday of Advent is just a few short weeks away and I'm in full preparation mode over here.
This is a time of year that is so full of tradition and something I want my children to experience and love as they grow older.
I want to create many awesome Advent traditions in the Catholic home. The same traditions that I grew up with.
Recently, I finished crafting some ornaments for a Jesse Tree Ornament exchange, which is a new tradition that I'm excited for my family to partake in this year.
Since this is something new for us, I am still working on putting together a plan of action on how we want to make it a regular tradition.
So for now, I'll share with you all what our plans will be. And in this post, I'm sharing our family's favorite Advent traditions.
What is Advent?
It is the season of holy anticipation and longing for the coming Messiah. In the Catholic faith it is also the start of the Liturgical year. During this time, we focus on preparing our hearts and souls for the coming of the Baby Jesus.
Although this is not as penitential as Lent is, we still encourage our children to make sacrifices and focus on preparing for the great Christmas feast.
In our home, we don't decorate for Christmas until a day or two before Christmas. I will already have our tree up this year because I'm using it for our Jesse tree, but it won't have our Christmas decorations until I prep it the night before Christmas.
As Catholics, we also celebrate the twelve days of Christmas.
Jesse Tree
Currently my plans are to utilize our Christmas tree and decorate it with purple and pink ribbons and strands of clear white lights. Each evening, we will gather together as a family and put out one ornament on our tree. Then we will read a corresponding bible verse.
I use the Douay-Rheims Bible, so some of the books may be titled different for some.
We will start the Jesse Tree Devotion on December 1st.
Advent Wreath
A favorite family tradition of mine, the Advent Wreath is of German origin. Many Catholics have one displayed on their dining table with the first Sunday of Advent and up until Christmas day.
It is often made of evergreens and with 4 candles surrounding – most commonly 3 purple and one rose or light pink, but all white can also be used if you're unable to find colored candles.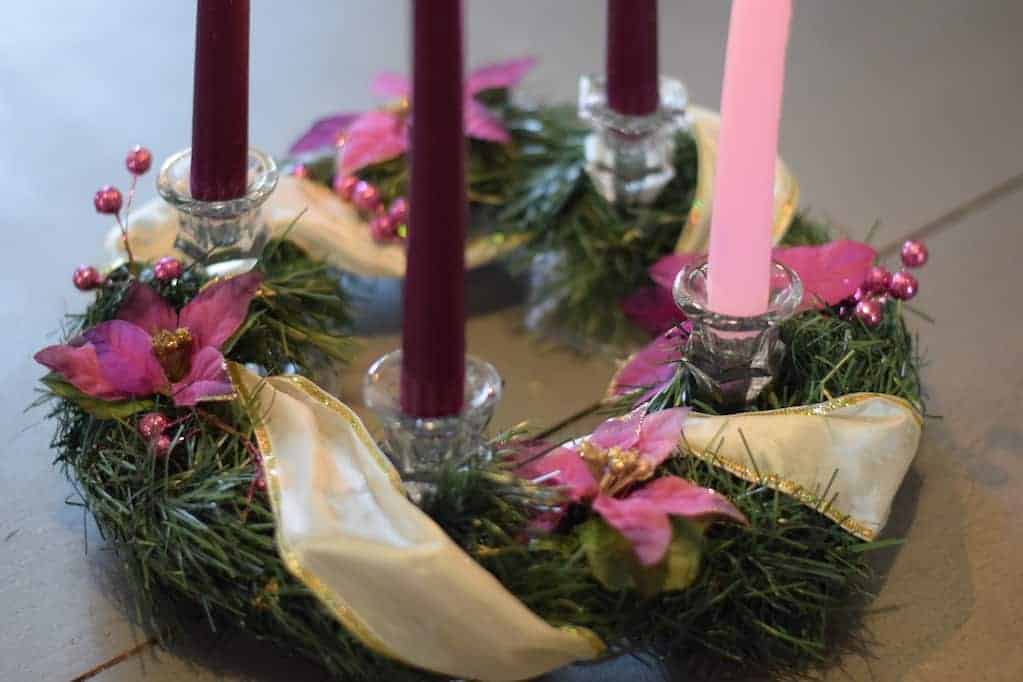 Here's a little reminder to get those candles ordered!
I made our wreath, but if you're looking for one that is already put together, this one looks lovely!
Related: How to Make an Advent Wreath
Each evening the family gathers together and says a short prayer and lights the candle(s) for the week. In our family, we practice this before dinner time in the evening and leave the candle burning during our meal.
Advent Calendar
There are so many possibilities with this one. I try to keep it simple since the focus in our family is on a lot of devotions as it is, I don't want things to become overwhelming or to take away from these.
I found this neat post on Pinterest and printed my calendar out on card stock.
Each day during the month of December, I will hang the corresponding day on some twine that I plan hang in the window above my kitchen sink.
I use simple Christmas colored twine and mini clothes pins to hang them. Super cute and kind of rustic!
Christmas Crib
Perfect tradition to do with children! Every year, we have an empty manger resting in the center of our advent wreath. We slowly fill it with straw every time we make a sacrifice or perform a good work or deed.
The idea is to teach children about sacrifices and to make a comfy bed for the Baby Jesus. On Christmas night, I add the Baby Jesus for my children to wake up to.
O Antiphons
Another devotion rich in tradition. The O Antiphon devotions begin on December 17th and last for one week.
Christmas Novena (15 times daily)
(begins on November 30th until Christmas day)
"Hail and blessed be the hour and the moment in which the Son of God was born of the Most Pure Virgin Mary, at midnight in Bethlehem in the piercing cold. In that hour vouchsafe, O my God, to hear my prayer and grant my petitions, through the merits of Jesus Christ Our Lord. Amen."
This prayer is to be said 15 times each day from November 30th until Christmas day.
Christmas Novena
(begins nine days before Christmas)
I received a printed copy from my spiritual director and copied it to share. My family prays this together in the evenings.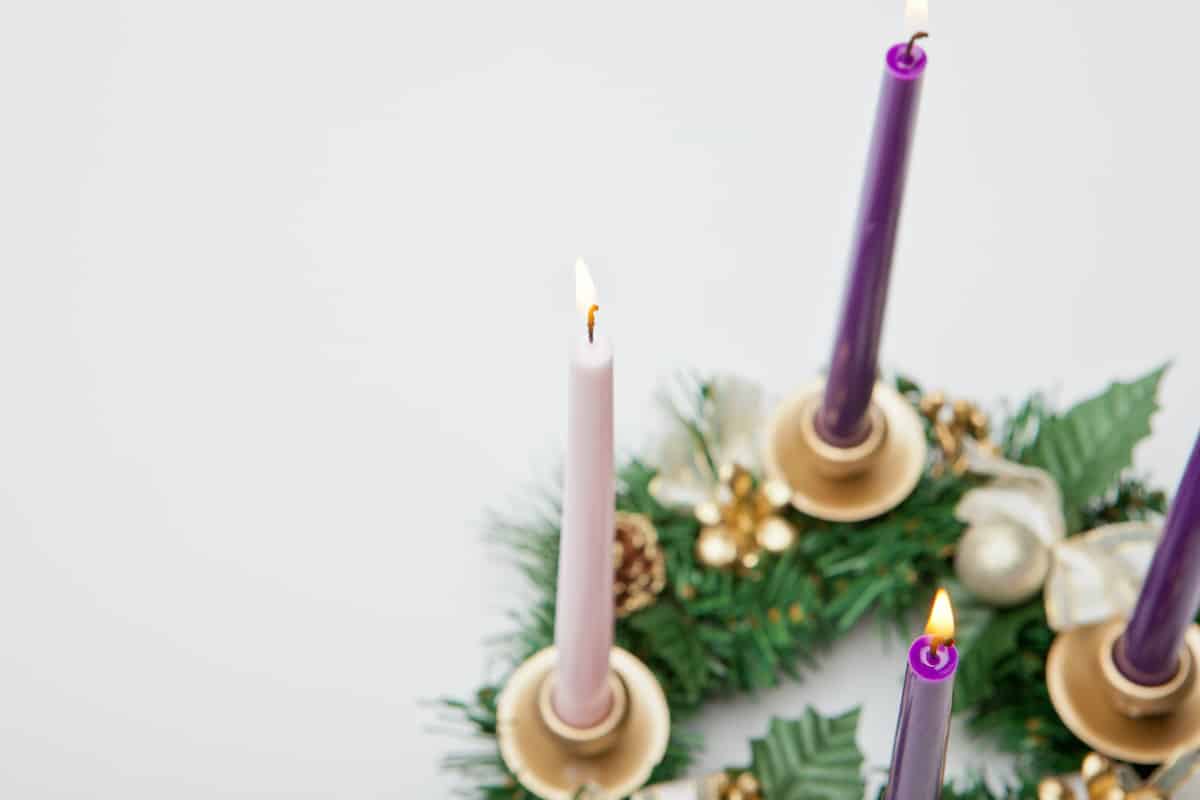 Bible Journaling
Bible Journaling is something that I really got interested in about the last couple of years. There are many different ways to practice it. Some people journal in their bibles or have special bibles with extra margin to write or draw images.
My preferred method is using my bible for reading and a separate blank journal to write down my thoughts and key take away's from my readings and meditations.
I also like to include some goals and resolutions. I generally do this a couple of times a week as part of my morning prayers, but during the month of December and Advent, I do it daily.
Related: Advent Bible Reading Plan
St. Nicholas Day
(December 6th)
This was a favorite tradition of mine while I growing up and I'm so excited to share it with my children. On the eve of the feast day of St. Nicholas, the children will leave their shoes out for St. Nicholas to leave little treats.
Since this is still during advent, I try not to give them too many treats. They usually receive a small book, stickers and a small chocolate St. Nicholas or something similar.
Related: Celebrating St. Nicholas Day in the Catholic Home
Immaculate Conception of the Blessed Virgin Mary
(December 8th)
Holy day of obligation. Great opportunity to explain the dogma of the Immaculate Conception to children.
Prepare an all white meal for dinner and then discuss with your children the dogma of the Immaculate Conception with the visual aids of dinner showing the purity and the stainlessness of Mary's soul.

The special treat for this feast is Moravian Spritz, or gingerbread cookies, loaded with fine, aromatic spices. These are mixed on the vigil, December 7.

Or make your favorite gingerbread cookie. Perhaps for this solemnity the family could make a gingerbread house or Gingerbread Bowls.

St Lucy's Day
(December 13th)
Also known as Sancta Lucia day – many cultures celebrate with various traditions. Some plant wheat that day, some forego wheat altogether, such as the Italians.
And as part of my Italian heritage, I am excited to add these celebrations to my family traditions. One of the things we will be making is a dish called cuccia and another is this braided bread from Catholic Cuisine.
These are just a few of the wonderful Advent traditions that many of us Catholics partake in.
Advent Devotional PDF Pack
I put together this devotional pack full of advent prayers and devotions that our family prays during the season of advent.
Included in this pack:
Advent Wreath Prayers
Jesse Tree Devotions
Advent Bible Journal (37 pages!)
O Antiphons
St Andrew's Novena tracking sheet
Advent Bible Verses
Bonus: printable artwork to frame in the home.