Charlotte Mason Preschool Reading Lessons
Disclosure: Joyfully Domestic may earn a commission for purchases made after clicking links on this page. View our disclosure policy for details.
Today I'm sharing about how we use Charlotte Mason method for Preschool Reading lessons. Currently I have one Kinderleben (pre-school) student who is using these resources.
It's important to note that these are not formal lessons as Charlotte Mason does not recommend formal lessons before the student is 6 years of age.
I'll have a separate post on how we teach formal reading lessons in form 1 (coming soon).
Some of the resources in this post have been recommended by The CMEC & others we have used & loved for many years.
→ Read more info about Charlotte Mason preschool lessons.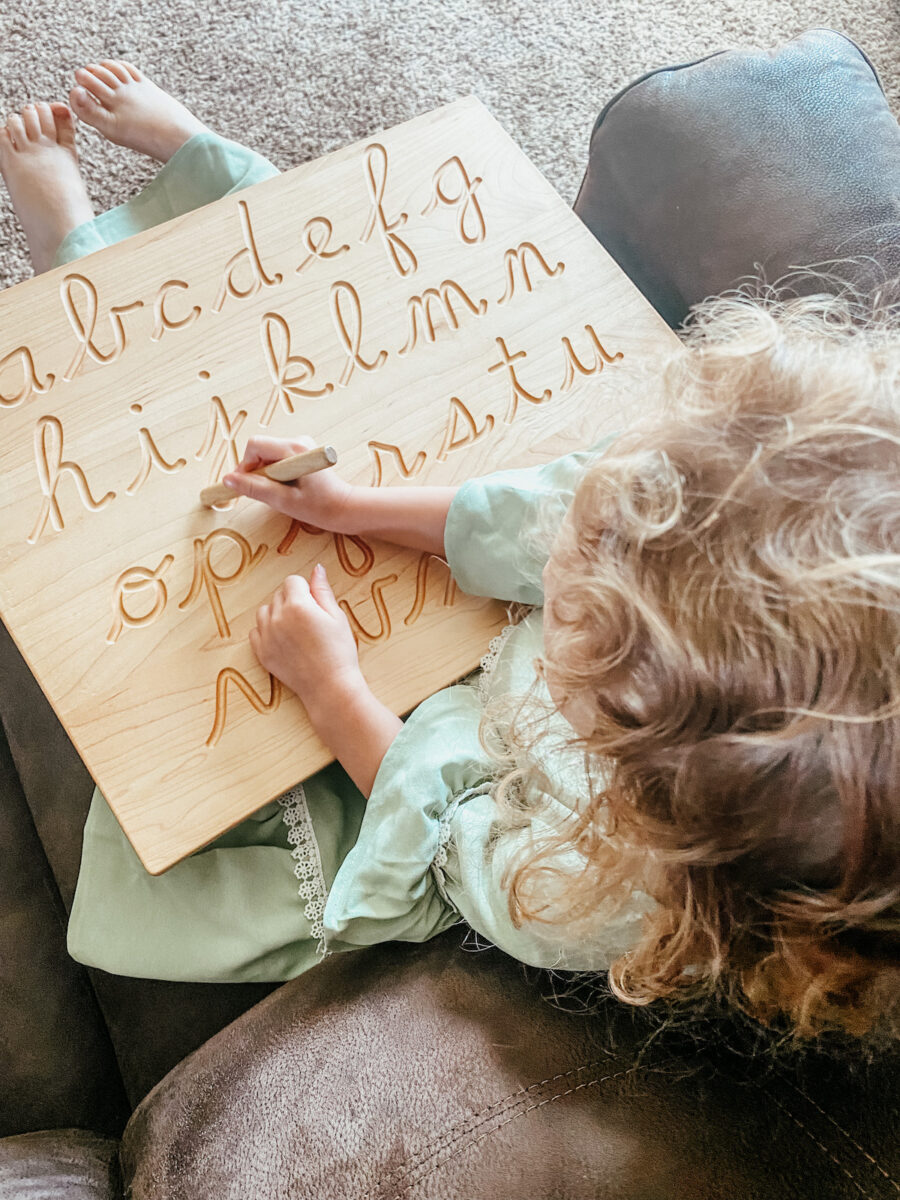 How we teach reading for kinderleben (preschool)
Another side note, since these are not formal lessons, we aren't actually teaching our child to read at this age. What we are doing is encouraging a habit of attention & building on listening skills.
When I created our timetable for all four of my children for the new school year, I created little blocks of time for my kinderleben student to work on simple reading "lessons" throughout the week.
On this timetable, she will have independent time to pull out her reading bin while the older students are working with me for their lesson time. At other times, there is time for us to have short reading lessons & play.
These blocks of time are kept short (about 10 minutes) and simple.
Essentially during the early years, children are beginning the work of their education through practicing the habit of attention. And they're building their listening skills through reading picture books, short poetry & nursery rhymes together.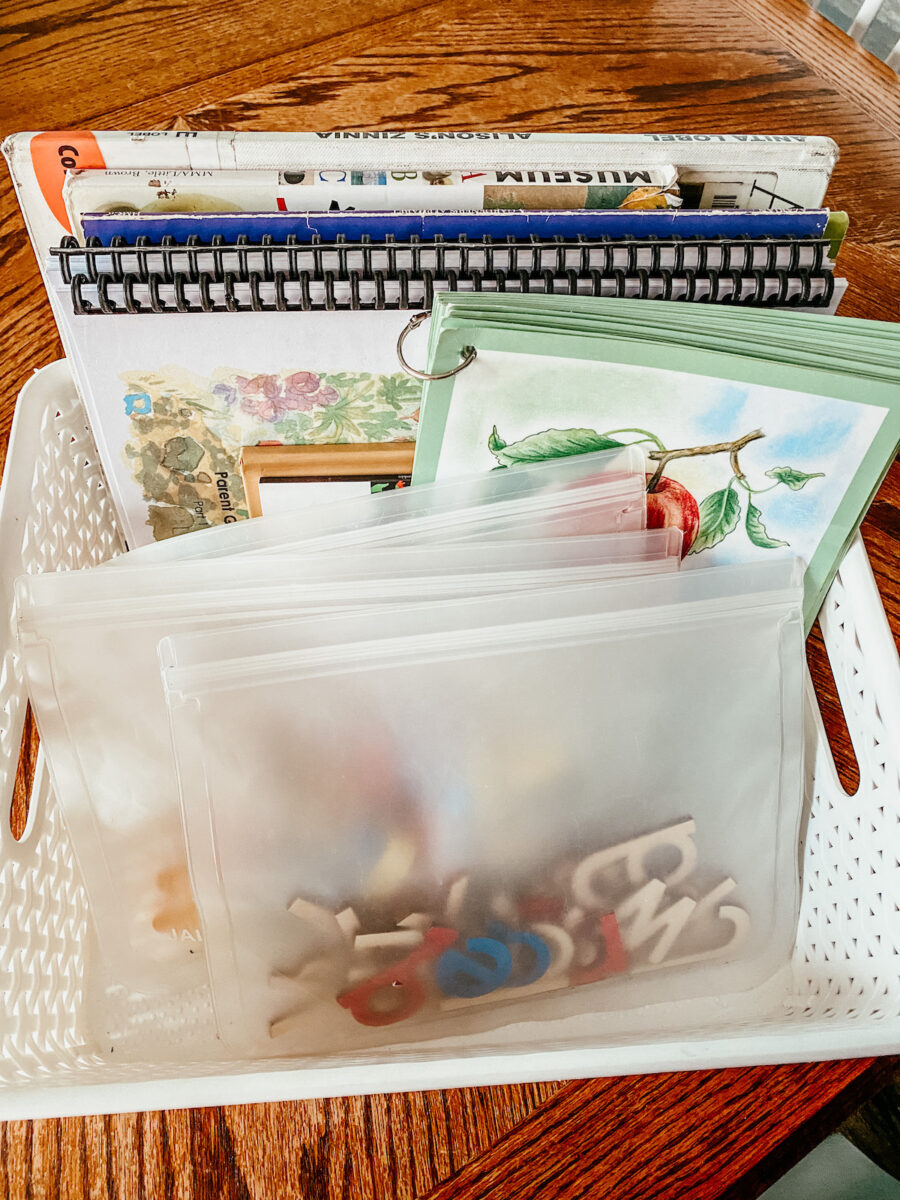 What's in the preschool reading bin
This bin is filled with a variety of literacy focused items to help prepare for formal lessons later on when the kinderleben student is ready for form 1 (first grade).
And because this is not a time for formal lessons, it is essentially child led. For example, I allow her to choose which activity will will play or picture book we are going to read during our reading block.
Here's what's in the kinderleben reading bin:
We have these beautiful large set of letter cards with pictures from Rainbow Resource center. These are great for letter recognition and for sounds. I hole punched a corner of each card and bound them together with a single binder ring.
Books
We love this Catholic Nursery Rhymes book that has been reprinted by St Augustine Academy Press. The original is from 1925!
Other nursery rhyme books we keep in the preschool basket are: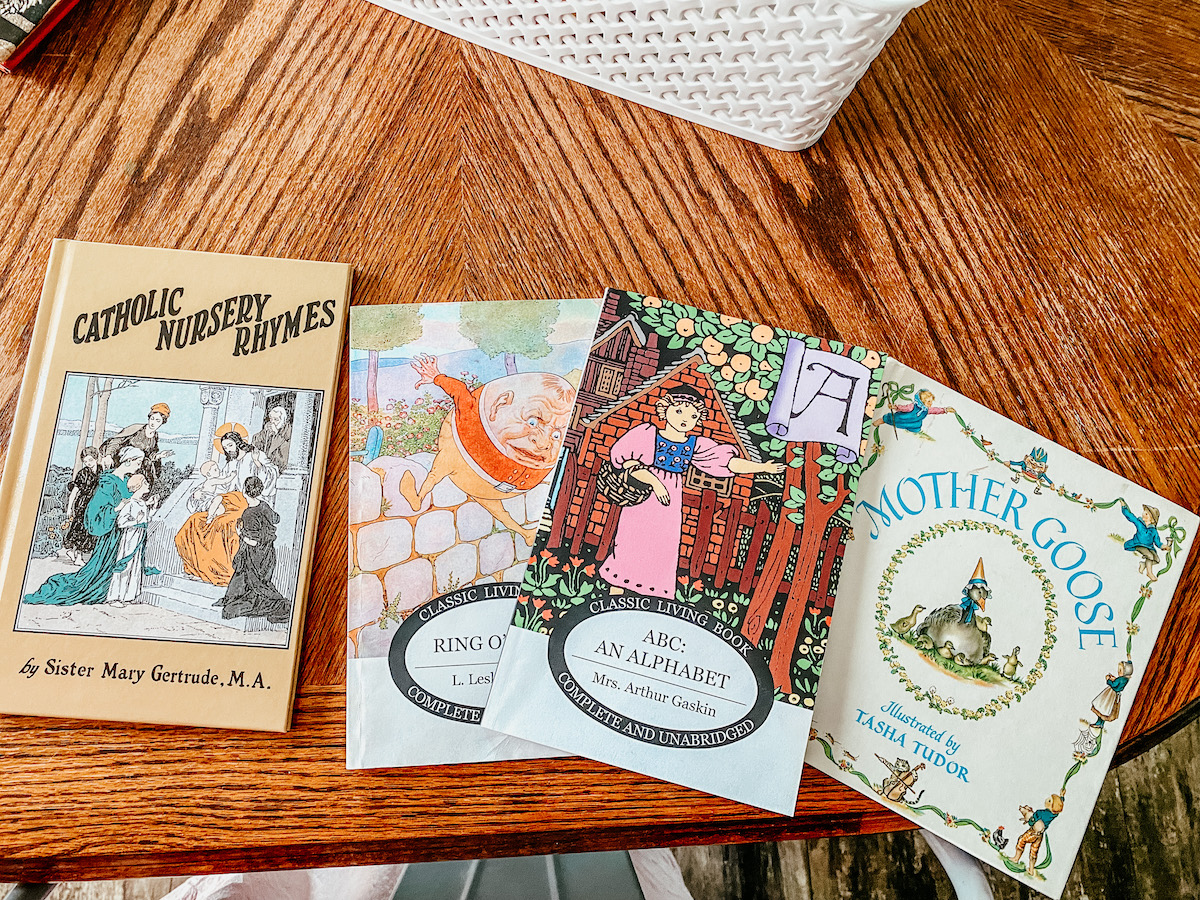 Learning the alphabet through art picture books
Two picture books that have been used for many years in our home while the children are young are from the I Spy art series and the Museum ABC book.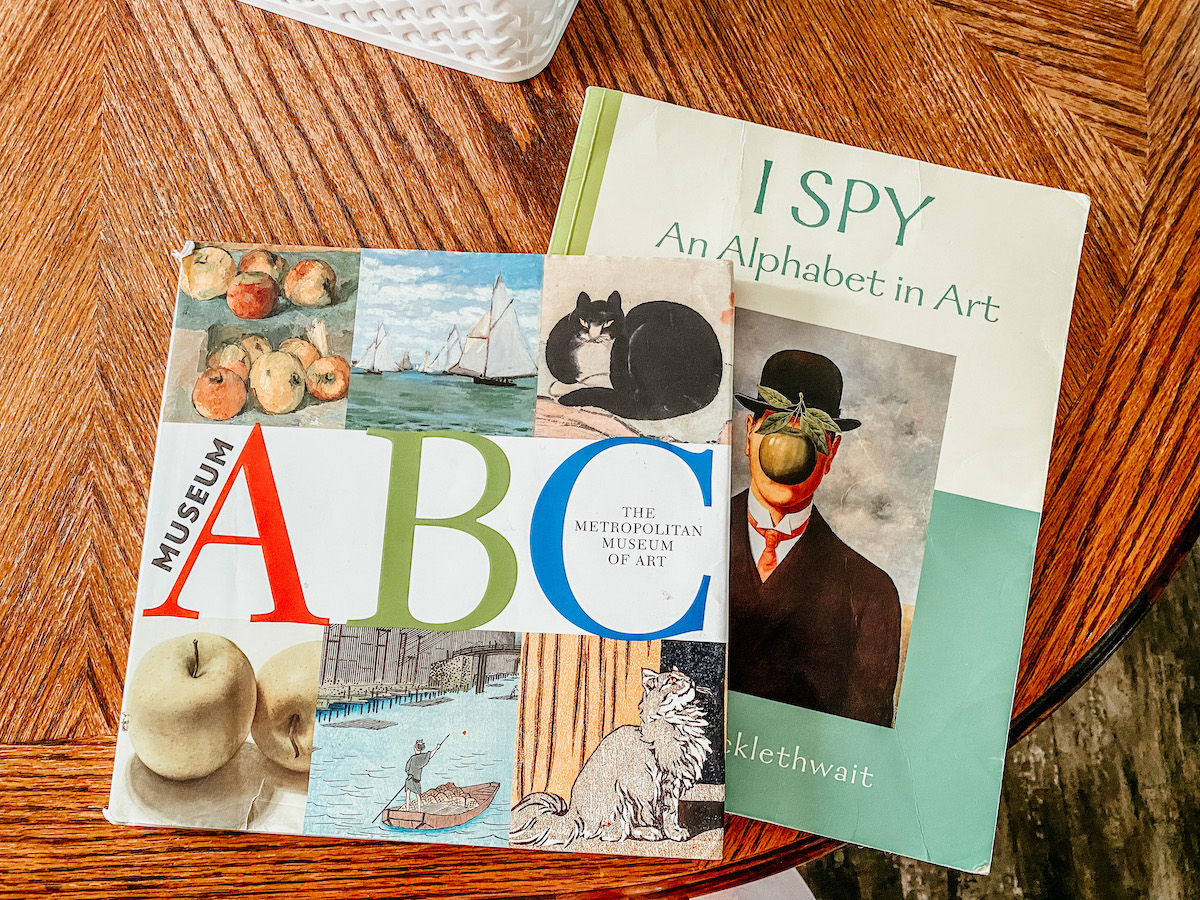 Of course there are many wonderful picture books available, these are just some of our favorite tried and true books!
Curious George Learns the Alphabet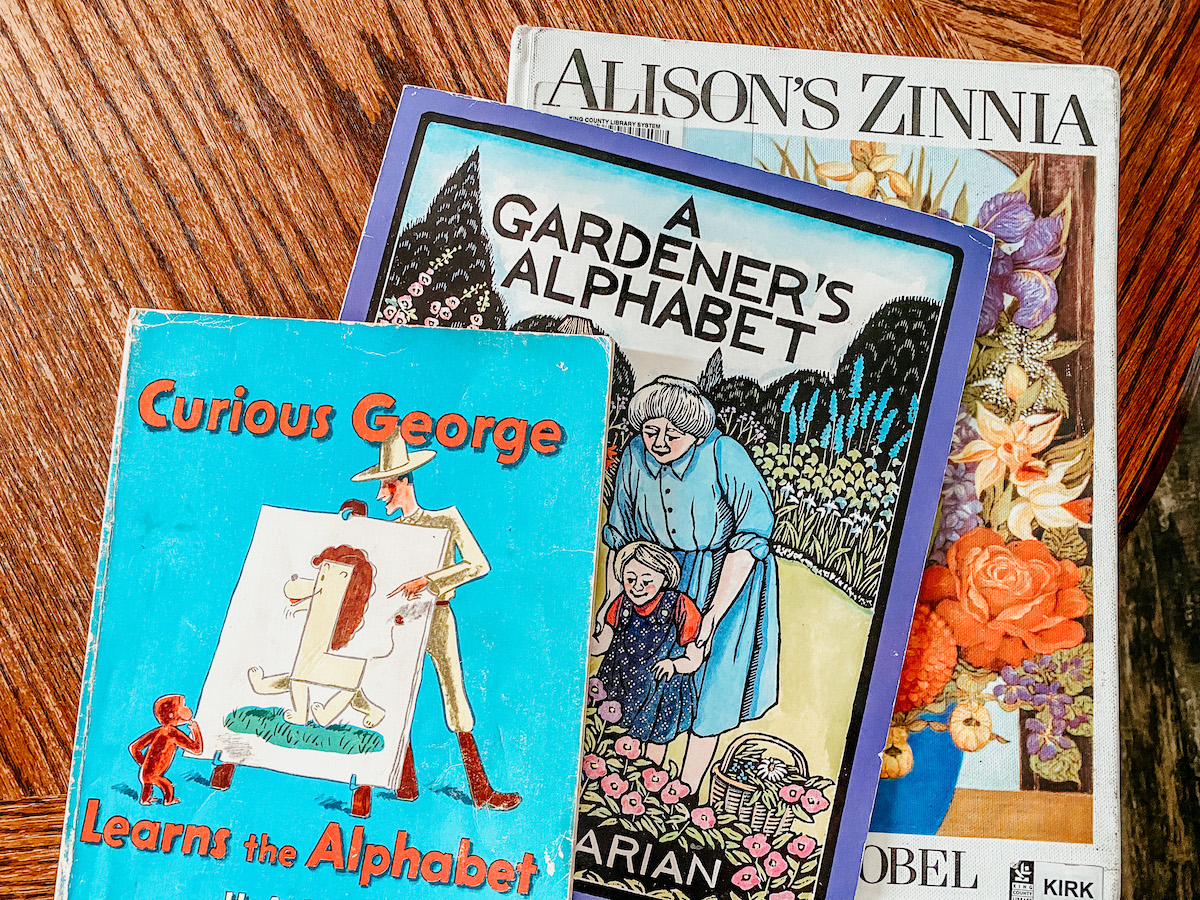 Hands on Alphabet
We love to use a variety of manipulative / hands on objects for the kinderleben student. Some of our favorites are these alphabet coins with use in a ten or twenty frame.
My children have also loved using this wooden ABC puzzle independently.
Another option that we add to our rotation is to trace letters in a sand tray with a wooden tracing stick or with their fingers (also a great sensory activity).
The sand tray is a great tool for so many lessons in the younger years. It's something that we even use in form 1 for beginning geography lessons, creating landforms, nature study, and other messy projects.
There's a lot of options with lids for storing the sand. However, we use these budget friendly stackable trays for easy storage when not in use. Also great for multiple students! Initially we were using regular sand, but switched to kinetic sand when cleaning it up got a little tiresome. 😅
The sand is just stored in a medium lidded plastic bin.
The tracing stick is also used for tracing the alphabet on a wooden board. We also use and love this cursive alphabet option — mostly for the older students, but my kinderleben child loves it too!
In form 1, we begin formal reading lessons and use this wooden alphabet with storage box for various activities. I pulled out 1 of each letter for the preschool student to use as a manipulative.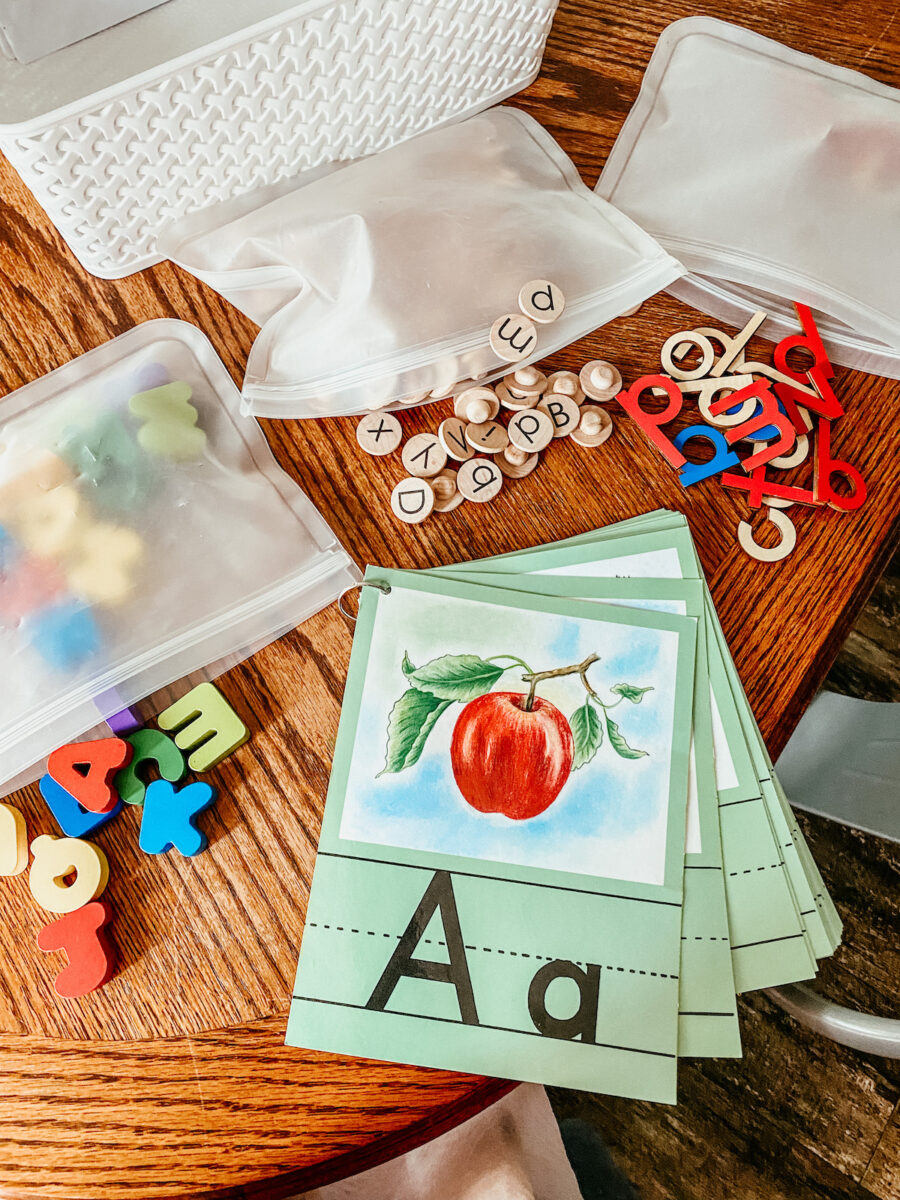 ---
FAQS & TIPS
---
Where can I learn more about Charlotte Mason reading lessons?
I would begin with reading Charlotte Mason's Home Education series (6 books in total)! If you're brand new, start with Home Education. When you're ready for more formal reading lessons, Discover Reading is the next place to go for creating fun activities & lesson suggestions for the form 1 student.
Where would you like to start?