Catholic Home Altar Set Up
Disclosure: Joyfully Domestic may earn a commission for purchases made after clicking links on this page. View our disclosure policy for details.
How do you set up a Catholic home altar? An important part of the domestic church is creating a place for family prayer.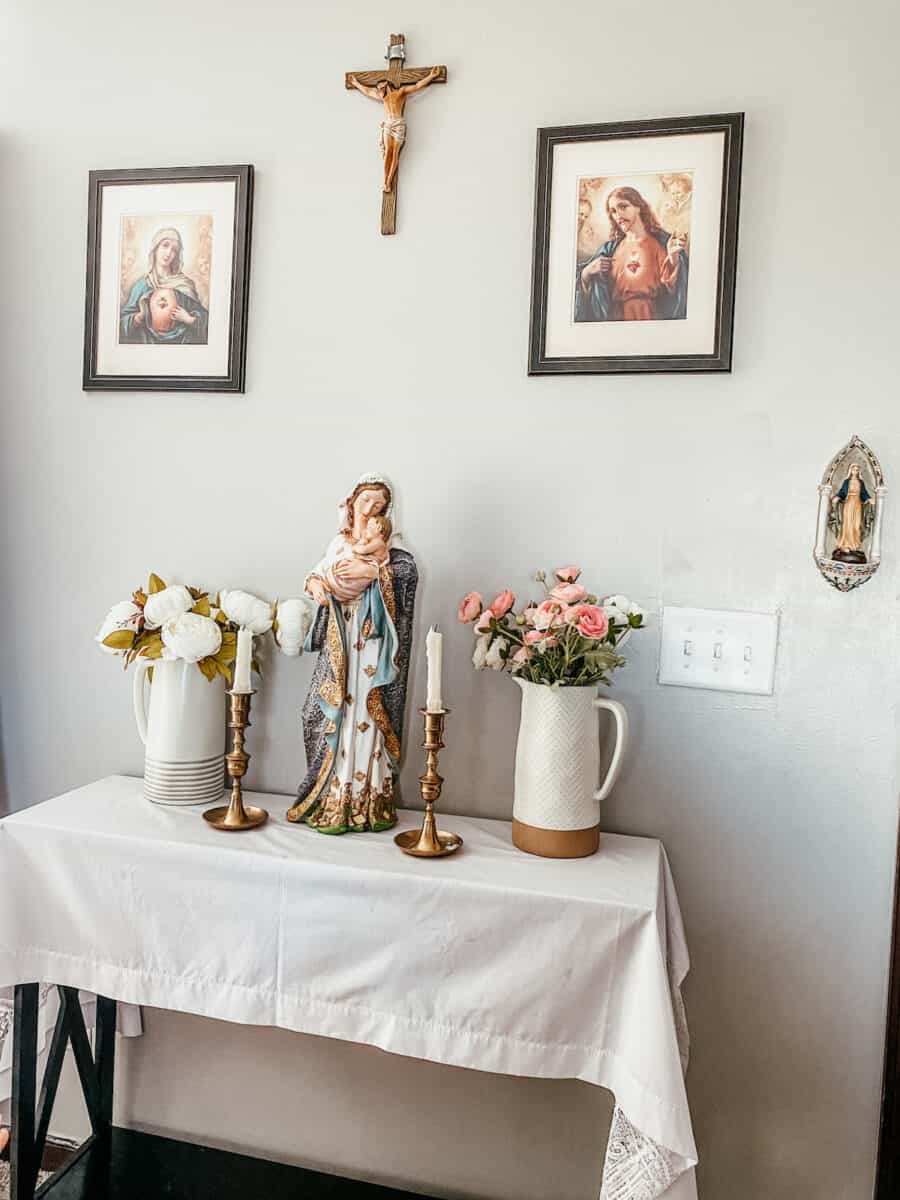 The Catholic Home Altar
This is a place that we use to gather together daily to pray the rosary, morning and night time prayers.
Plus, it just sets up the focus, front and center of our living space.
Several years ago we had our home enthroned to the Sacred Heart of Jesus. And Christ is the head of our family home life.
Related: Devotion to the Sacred Heart of Jesus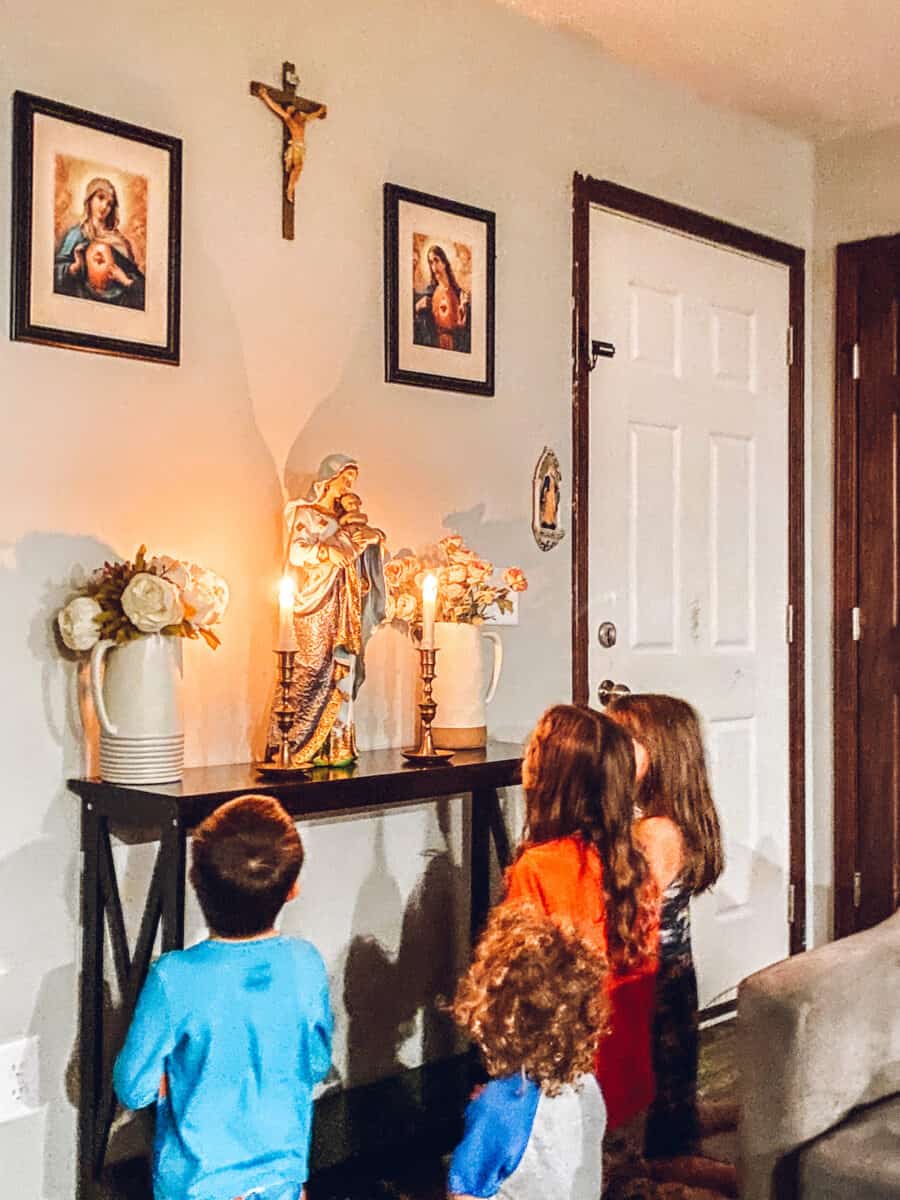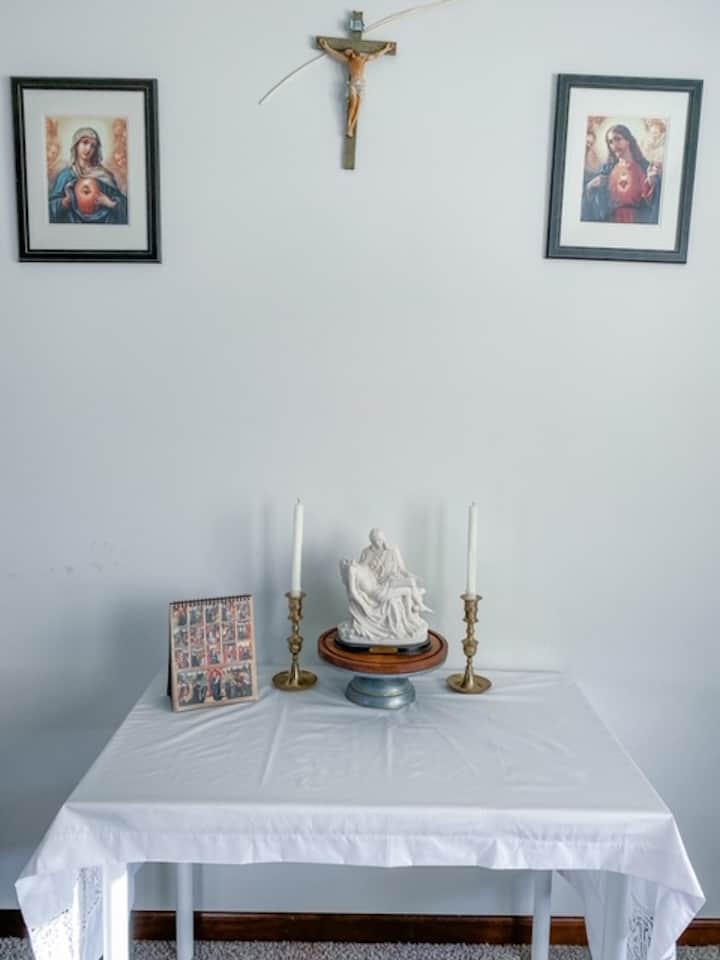 My husband has plans to build something from scratch for our home altar. But for now, we are just using what we have.
I have a couple of these tables from Ikea that I use in our homeschool classroom. And I pulled one to temporarily set up our altar.
I'll share sources of what we used to set up our altar at the end of this post.
But first, I want to give another example of a neat home altar that my sister shared with me.
This is the setup in her fiancé's family home. That image of Our Mother of Perpetual Helps is so beautiful!
Items to Decorate With
Here are a few suggestions to make the space put together.
a simple linen
fresh flowers
blessed candles
favorite devotionals
prayer books / bible
pictures of saints
statues
holy cards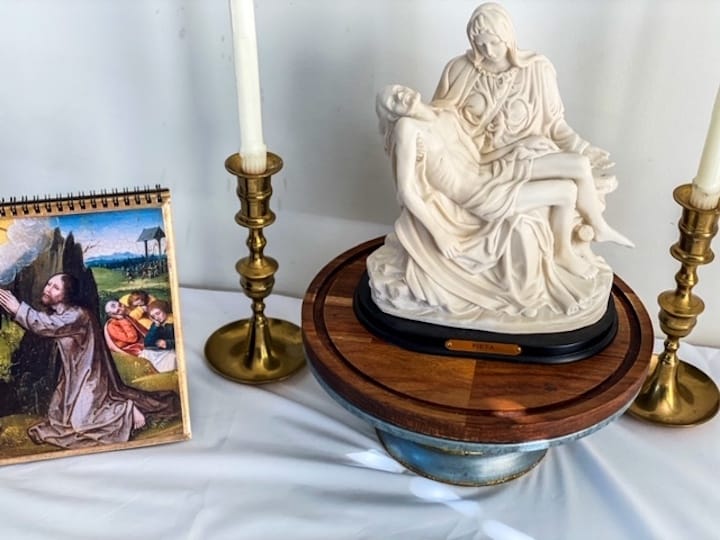 Sources for Our Set Up
I wanted to make our prayer area extra special and exciting for my children. It really helps encourage their enthusiasm and attraction to devotions.
I started with a simple white linen with embroidery that reads IHS. It gives it more of a chapel vibe for our domestic church.
IHS is an ancient monogram formed from the first three letters —Iota, Eta and Sigma—of the Greek word for Jesus: IHSOUS.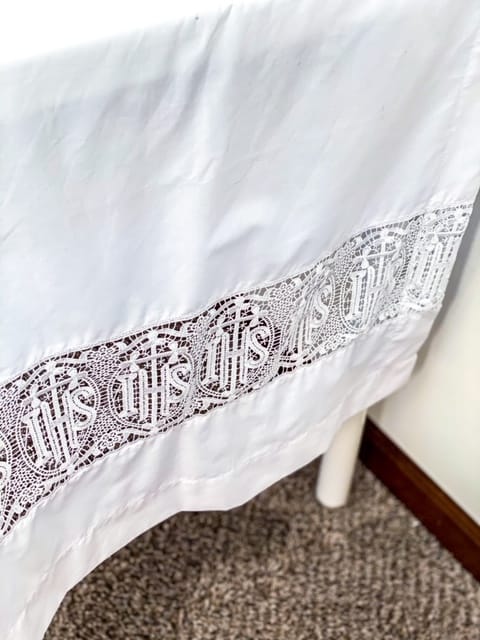 Then I placed our blessed candles on brass candle holders that were found at a thrift shop.
Next, I used an old cake pedestal to raise up our Pieta statue.
And finally, we have a rosary flip book that helps my family stay focused on the mysteries when we pray together.
Here's a few of the items we used for ours: