May Devotions in the Catholic Home
Disclosure: Joyfully Domestic may earn a commission for purchases made after clicking links on this page. View our disclosure policy for details.
As Catholics, we know that the month of May has been dedicated by the church in honor of Our Lady. It is a big tradition for many families to celebrate with May devotions in the Catholic home.
So, how do we do this?
Here are a few of my favorite ideas to add May devotions in the Catholic home.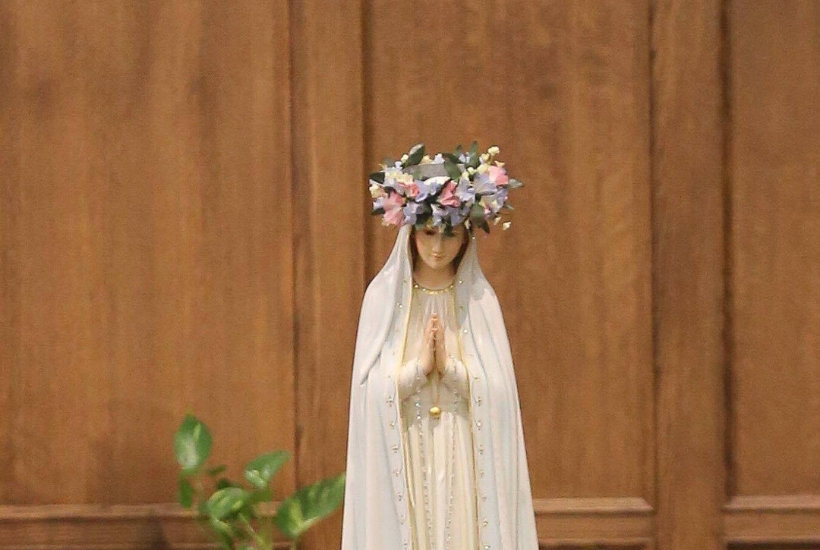 Plant a Mary Garden
If you have an outdoor area where you can dedicate to the Blessed Mother, set up a nice garden statue and plant some pretty flowers in her honor.
This is a great activity to do as a family or with little ones.
We have this outdoor garden statue and filled it with sand to keep from getting knocked over by our crazy winds. This is what we used for our outdoor May crowning (see below).
And we have a nice garden bench set up to sit and enjoy some quiet time outdoors with Our Lady.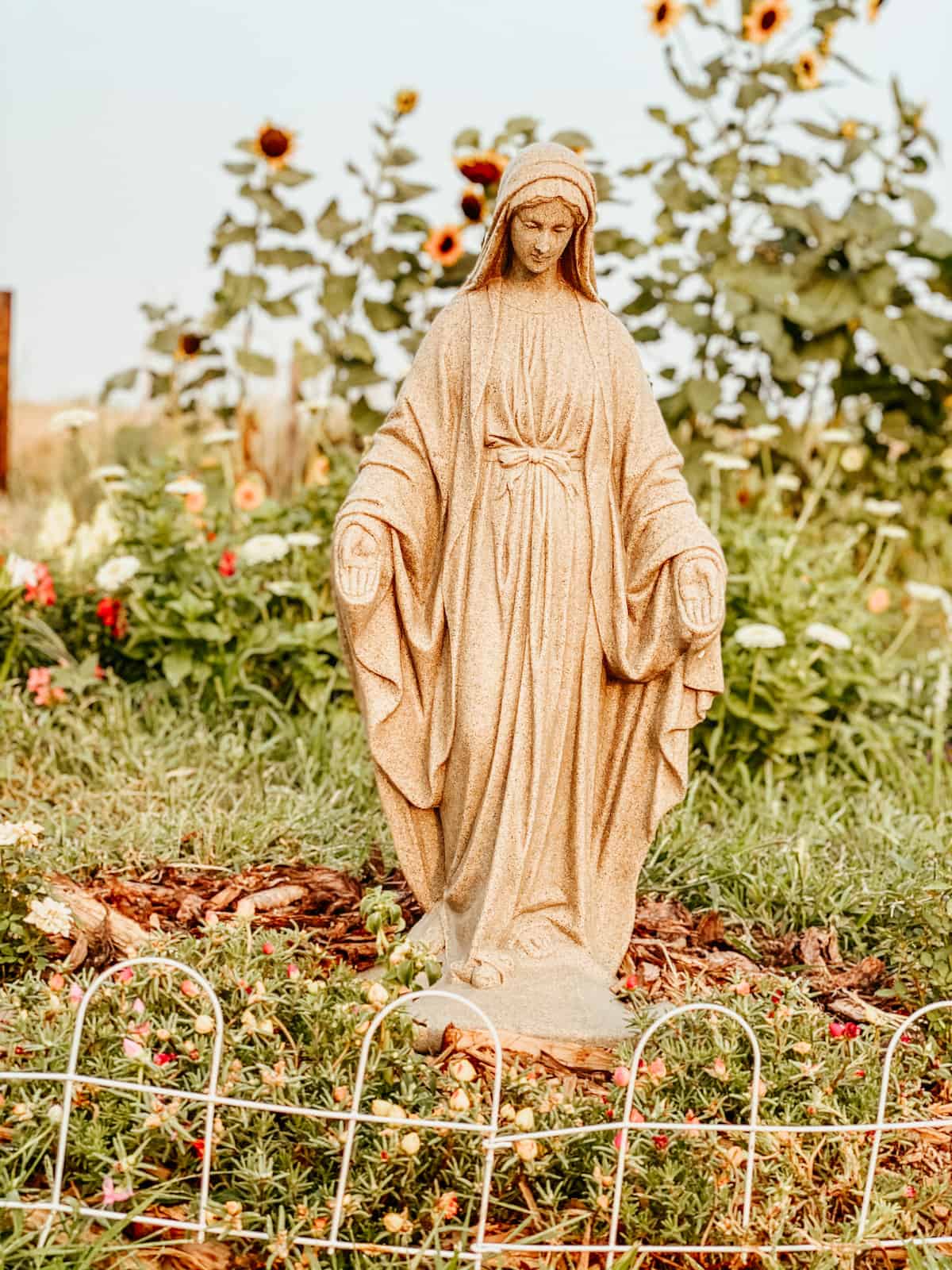 May Altar
Set up a dedicated area in the home with statues, pictures, and holy cards of Our Lady. Decorate it with a special table cloth (if you have one) and set up pretty flowers. You could include candles too if you'd like.
Have your children take fresh flowers to present to Our Lady's altar at home or in your parish church.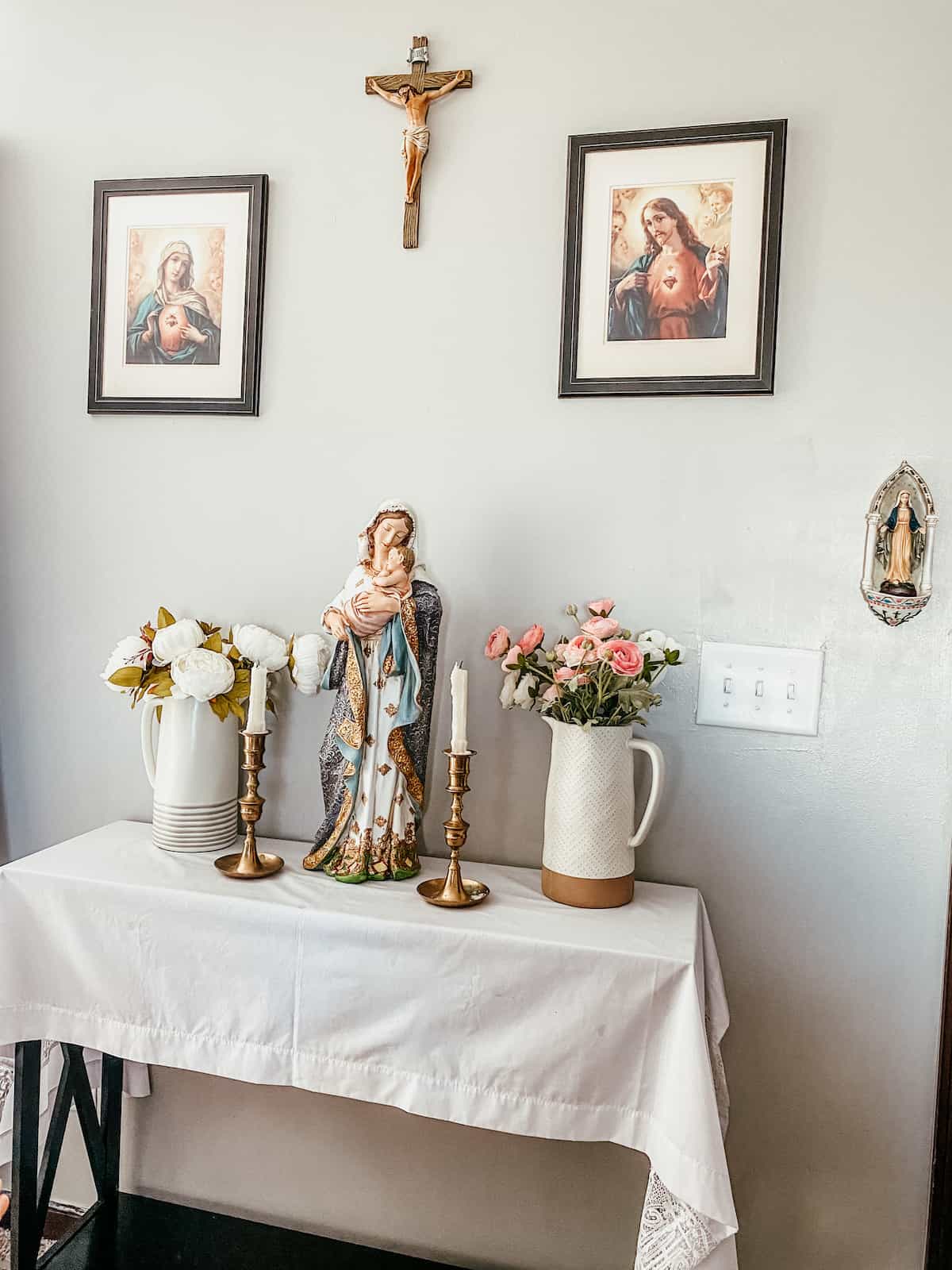 May Crowning
Many parishes have a weekly May crowning in honor of the Blessed Mother. Sometimes, First Communicants get the honor for doing it on Mother's Day. It's a very special way for little ones to get involved in honoring the Queen of Heaven.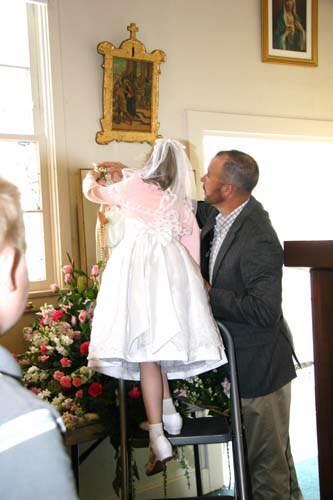 This doesn't need to only be done at church.
Part of setting up a Domestic Church is to bring some of those rich traditions and devotions to the home. Consider the home as an extension of the church.
This is one of our favorite ways to bring May devotions in the Catholic home.
Tips to get started. Find a local craft store and head over to their floral department. Most craft stores have all of the tools that you'll need to make a simple flower crown.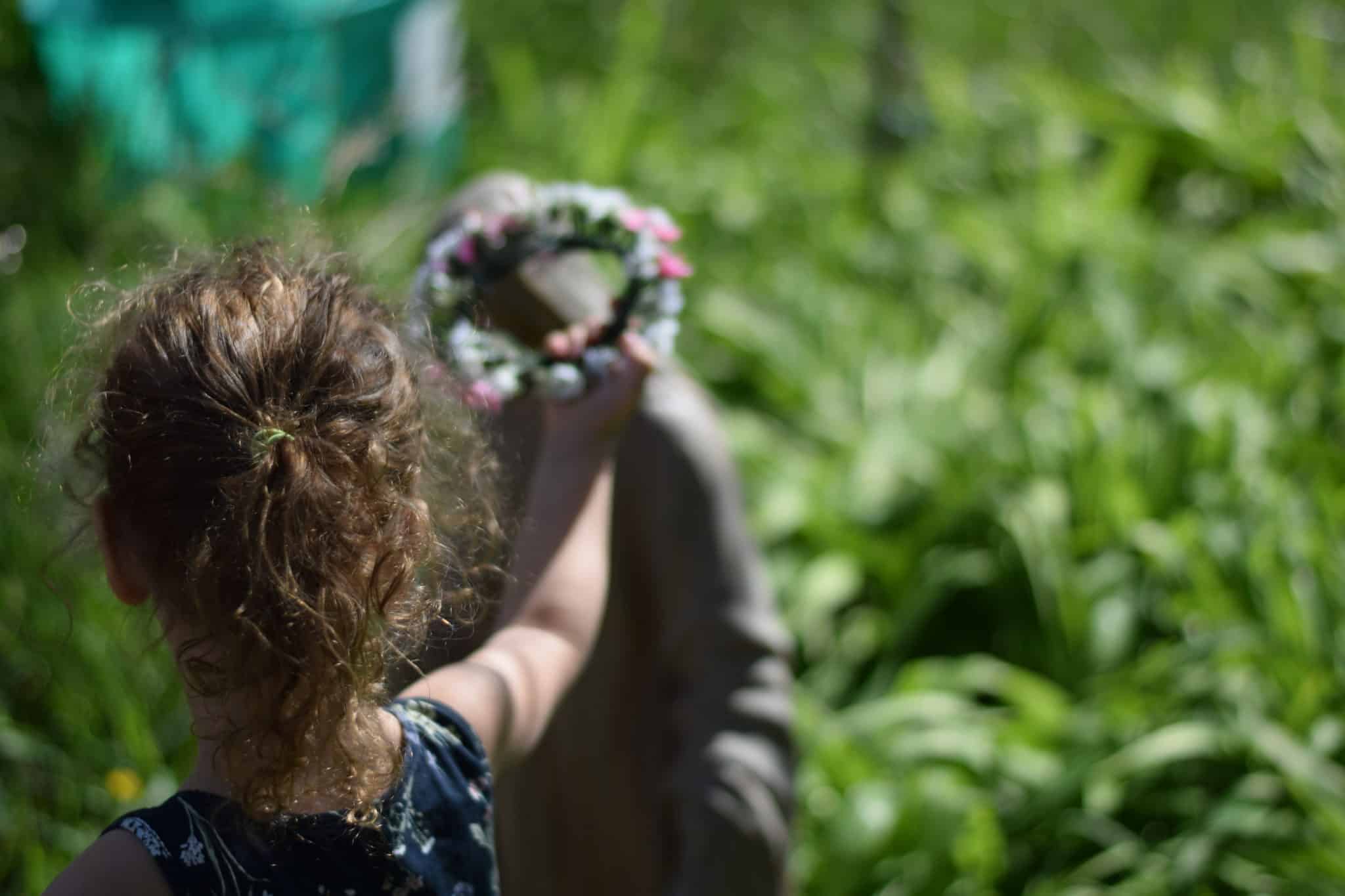 How I Made our Mary Crown
I had some flowers in my craft supply already, but you can use any available at a craft store.
First, I took some floral wire and measured the circumference of head on our outdoor Mary statue.
I used a hot glue gun and added another layer of flowers until I had my desired crown. I kept it simple and only used two rows of flowers.
Finally, I secured it all in place using floral wire. I plan to add some pretty white ribbon when I make our next big city trip.
Super simple project for the Blessed Mother.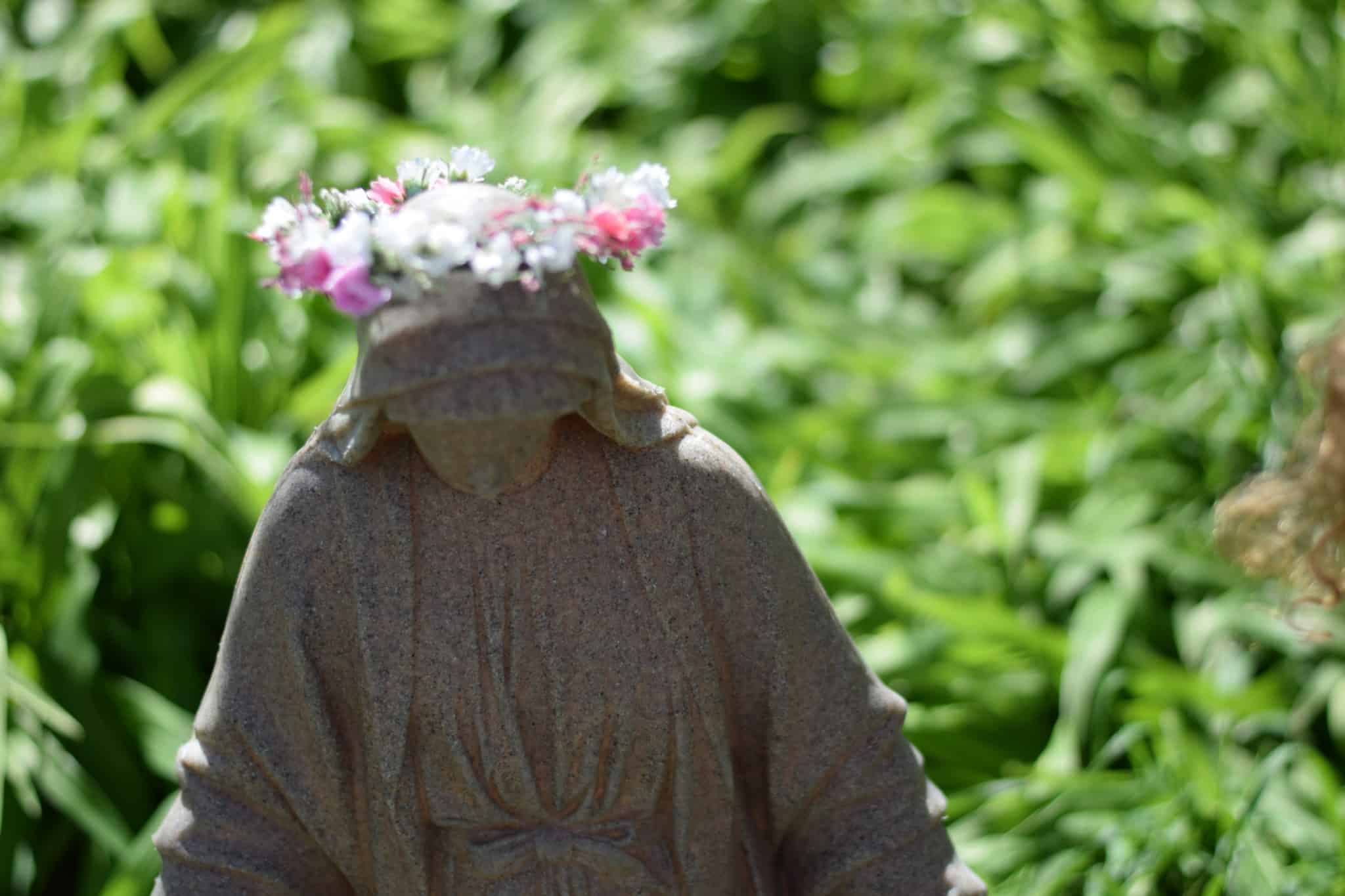 Marian Tea Party
My toddler and preschooler both LOVE tea parties. So I figure why not have one with a very special guest of honor, the Blessed Mother.
This is super easy to put together and brings so much joy to little ones.
Ideas include: decorate with a lovely table cloth and pretty plates and cups. We usually set up a beautiful statue or picture of Our Lady with flowers proudly displayed in front.
We usually have a child friendly herbal tea, sparkling juice, cider or water, or some other special drink. As well as tea cookies, shortbread, cupcakes, or some other special treat.
Typically we don't do this too often, except on special feast days of the Blessed Mother to keep it extra special for our littles.
Printables
One of my favorite free resources for Catholic children printables and coloring pages is the Catholic Playground.
Here's a link to some Mary coloring pages.
As part of our preschool lessons during the month of May, we work on a craft, coloring sheets, or do an activity focused on our Our Lady once per week.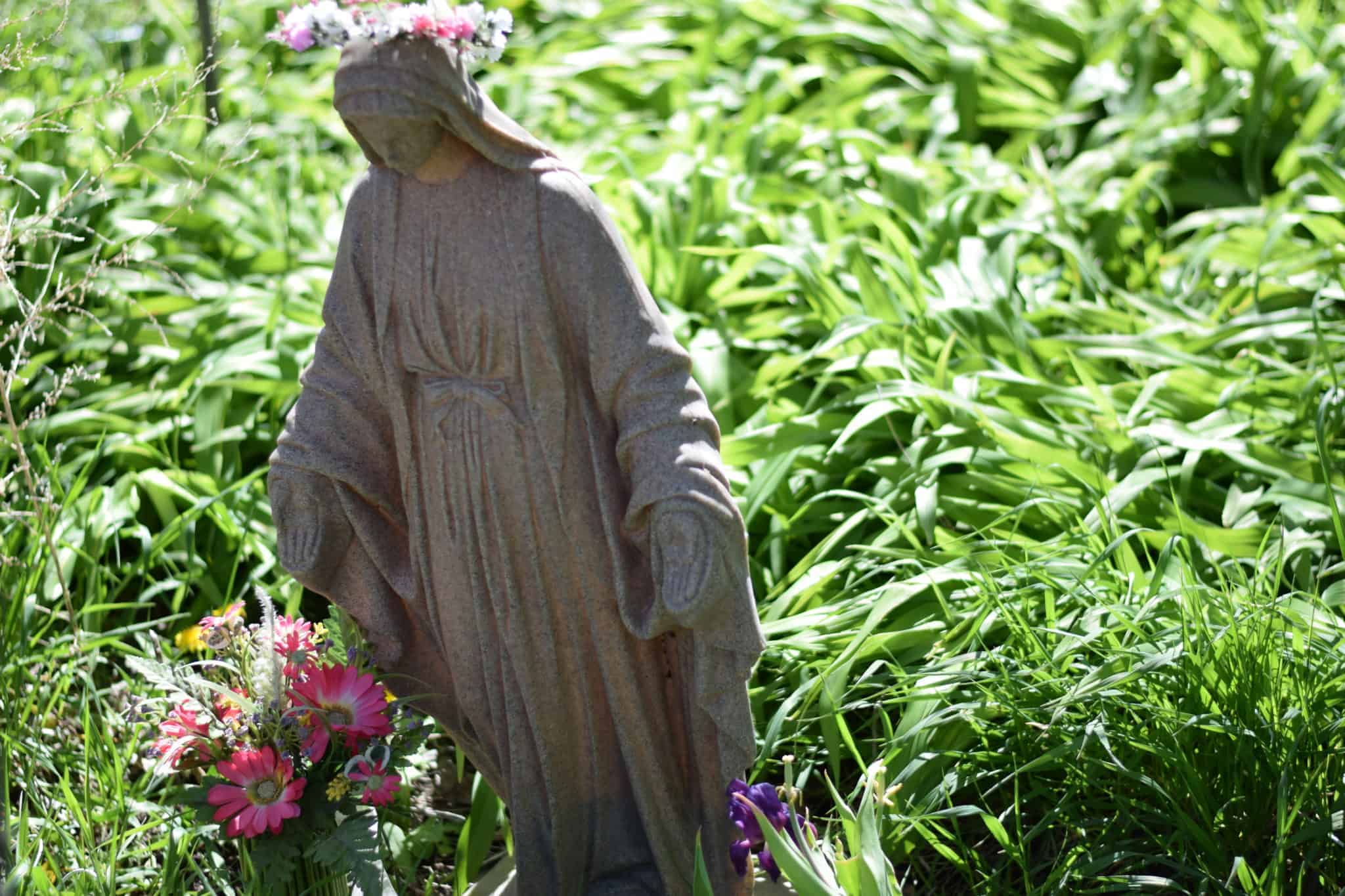 Queenship of Mary
On the feast day of Mary's Queenship (May 31st) our family has a mini celebration in our home. During this time, we decorate our table for a semi fancy meal for our guest of honor, Mary.
I'll usually bake some special desert like one of my family's favorites. Like this Cast Iron Chocolate Chip Cookie, or something like this Healthy Chocolate Raspberry Tart. I have many delicious family friendly recipes on my other website, Boots & Hooves Homestead.
We don't eat a bunch of sweets or sugar around here, except for on special occasions like this.
I think that it makes it a little extra special and really has my littles excited about celebrating Our Lady.
Recommended Devotions:
The Holy Rosary – here's a great devotional that I like to use to help me meditate on the mysteries.
(although the Rosary should be a daily devotion, why not pay special attention to it during this month?)
Little Office of the Blessed Virgin Mary
More Recommended Reading for May:
Mary Was Her Life (one of my most favorites! I'm reading it again currently for the hundredth time. Ha.)
Leading the Little Ones to Mary
There you have a few of the traditions my family does to celebrate Mary during the month of May.
What does your family do to keep this tradition alive? How do you celebrate May devotions in the Catholic home?