Holy Week Bible Reading (in our Catholic Home + School)
Disclosure: Joyfully Domestic may earn a commission for purchases made after clicking links on this page. View our disclosure policy for details.
As part of Holy Week in our Catholic home this year, we are following along with the events of Our Lord from the Bible.
So, this year we put together a Bible reading plan to use in our homeschool — based off of the events that took place.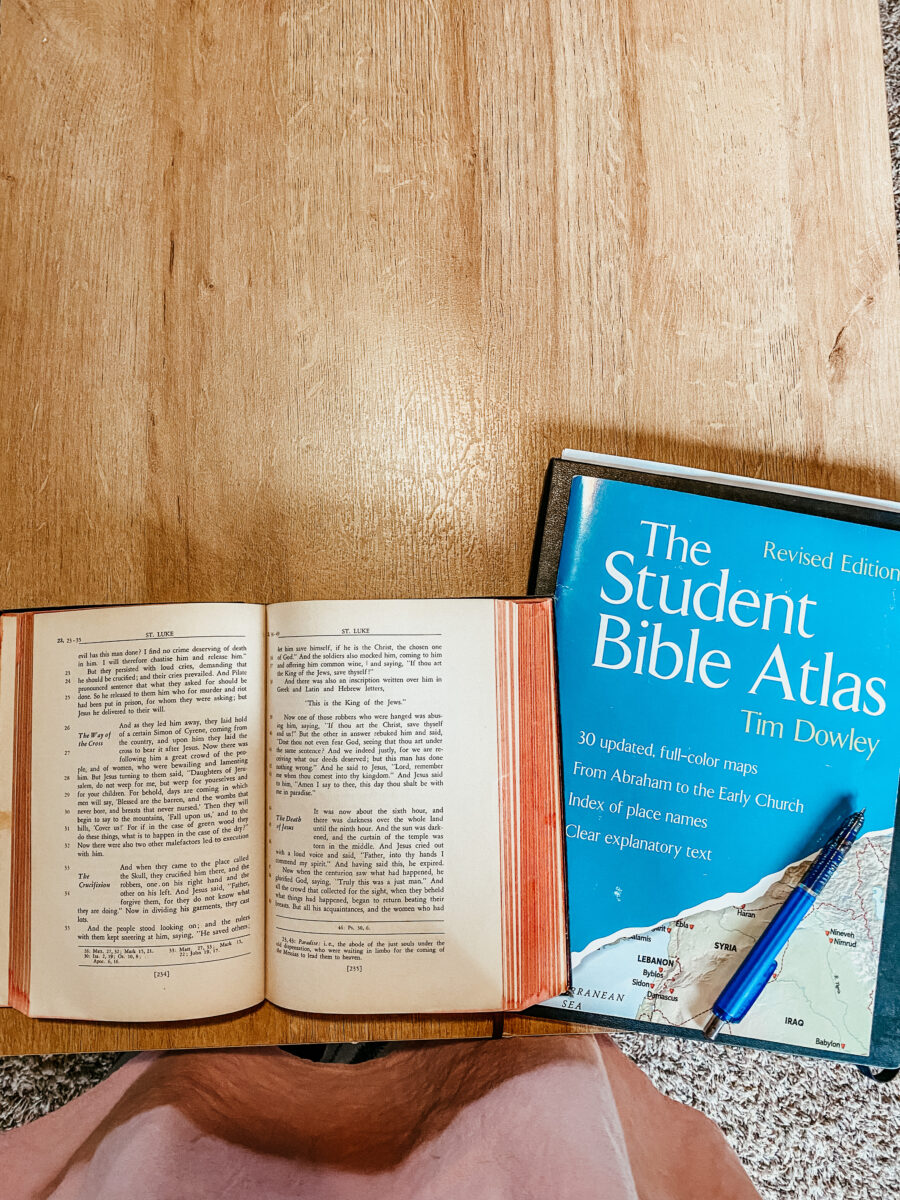 Holy Week Bible Plan
I put together this reading plan based off of the events that took place during Holy Week. This year, in our homeschool, we are reading through St Luke in the New Testament.
So we will continue with the readings from St Luke as part of our Holy Week. Next year we will read through St John.
And I've listed each of the Gospels to choose from for the year.
PALM SUNDAY:
Matthew 21:1-11
Mark 11:1-11
Luke 19:28-44
John 12:12-19
MONDAY:
Matthew 21:12–22
Mark 11:12–19
Luke 19:45-48
John 2:13-17
TUESDAY:
Matthew 21:23–24:51
Mark 11:20–13:37
Luke 20:1–21:36
John 12:20–38
WEDNESDAY:
Matthew 26: 1-16
Mark 14: 1-11
luke 22: 1-6
John 11: 46-56
HOLY THURSDAY:
Matthew 26:17–75
Mark 14:12-72
Luke 22:7-62
John 13:1-38, 14, 15, 16, 17, 18: 1-27
GOOD FRIDAY:
Matthew 27:1-62
Mark 15:1-47
Luke 22:63-23:56
John 18:28-19:42
HOLY SATURDAY:
Matthew 27:62-66
Mark 16:1
Luke 23:56
John 19:40
EASTER SUNDAY:
Matthew 28:1-13
Mark 16:1-14
Luke 24:1-49
John 20:1-23
For your convenience, I have put together a printable with these scriptures & a Holy Week planner sheet too! Grab them for FREE at the end of this post!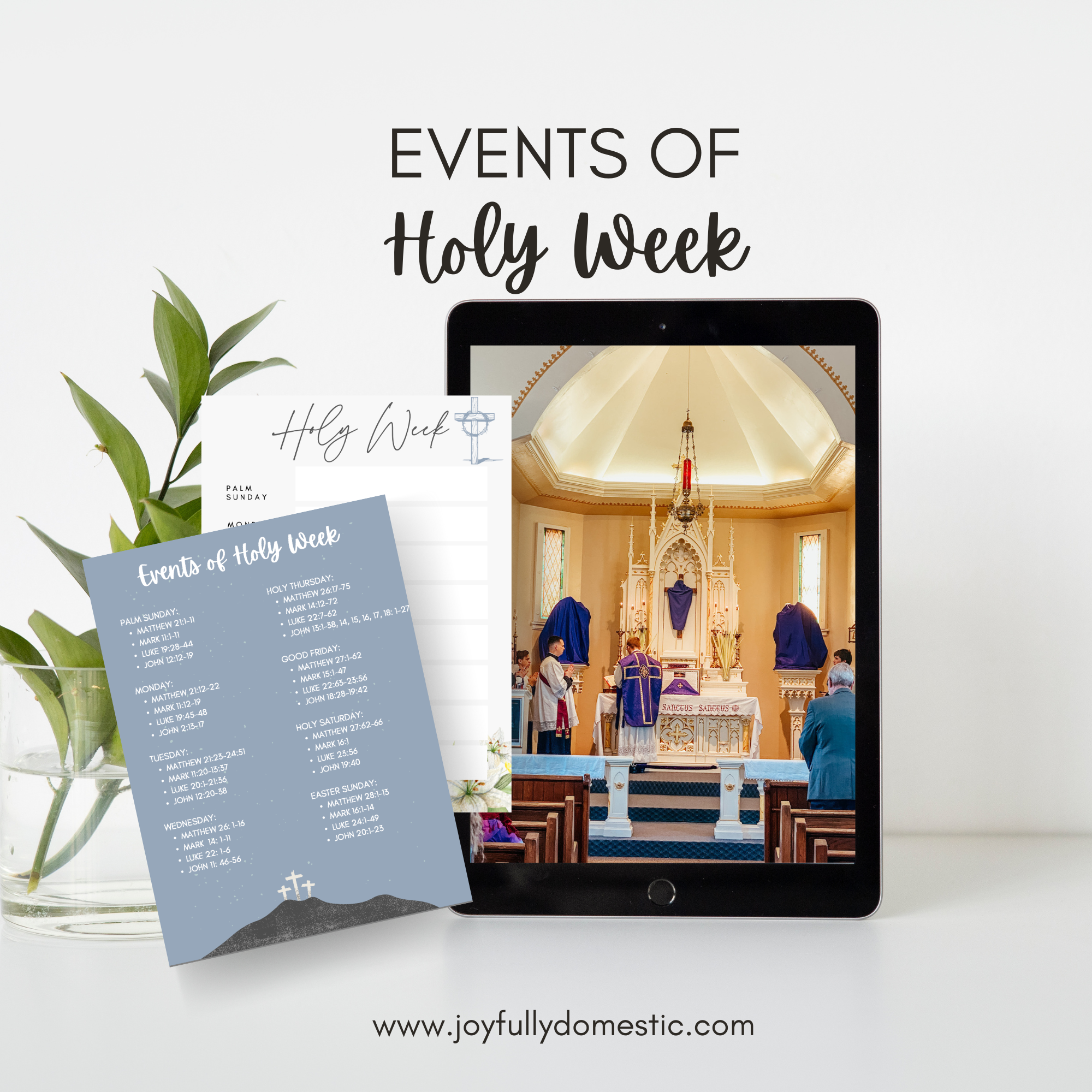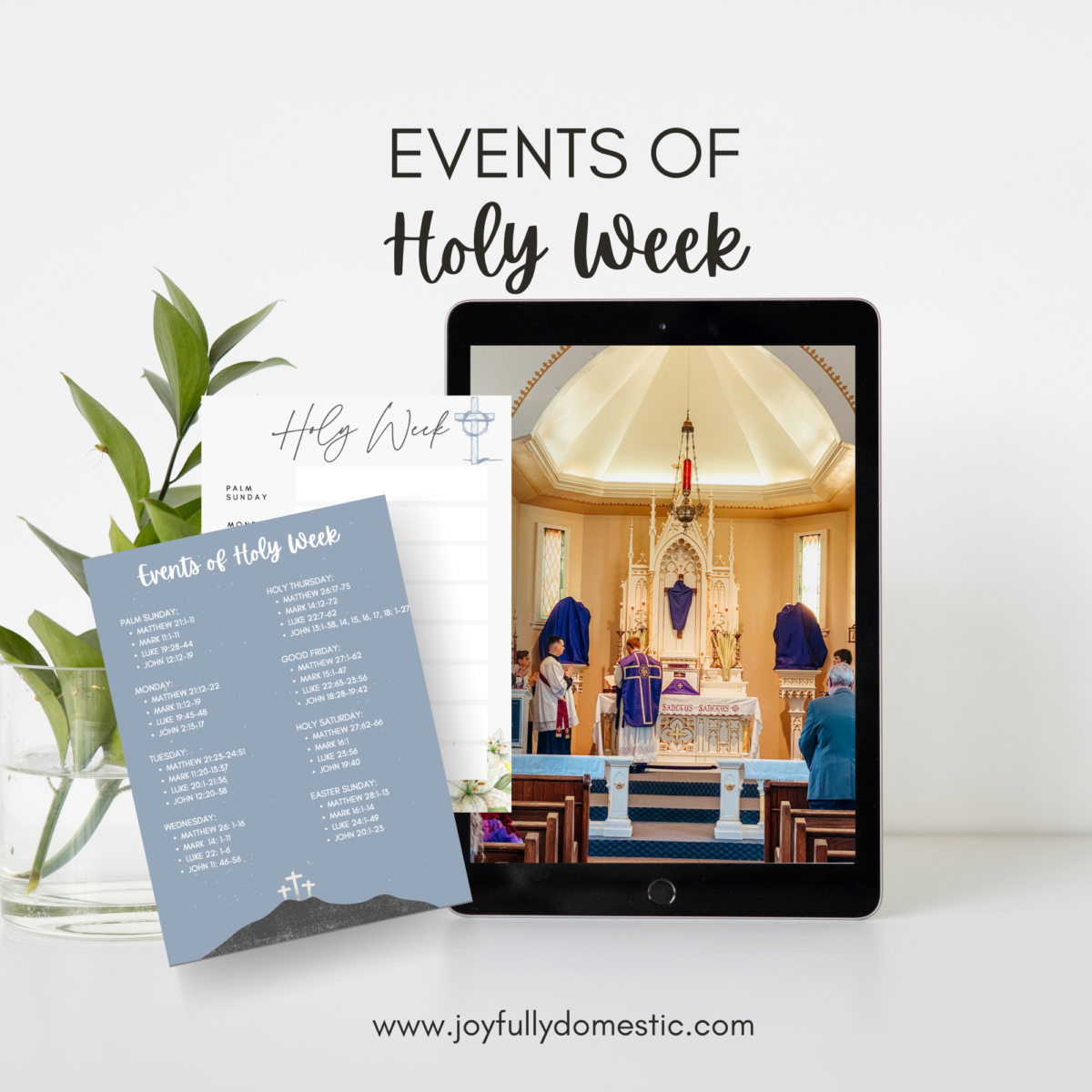 How we do Bible study in our homeschool
We follow the Charlotte Mason method for homeschool in our home. And as such, we try to follow Mason's method of a lesson as closely as possible.
This is the basic structure of our Bible lessons:
recap previous lesson
inspiring idea
reading of Bible text
narrations
map & atlas study
discussion & notebook work
I do want to mention that some of these selections are a bit lengthy for younger students. So we break them down a bit to keep the lessons short as Mason prescribed.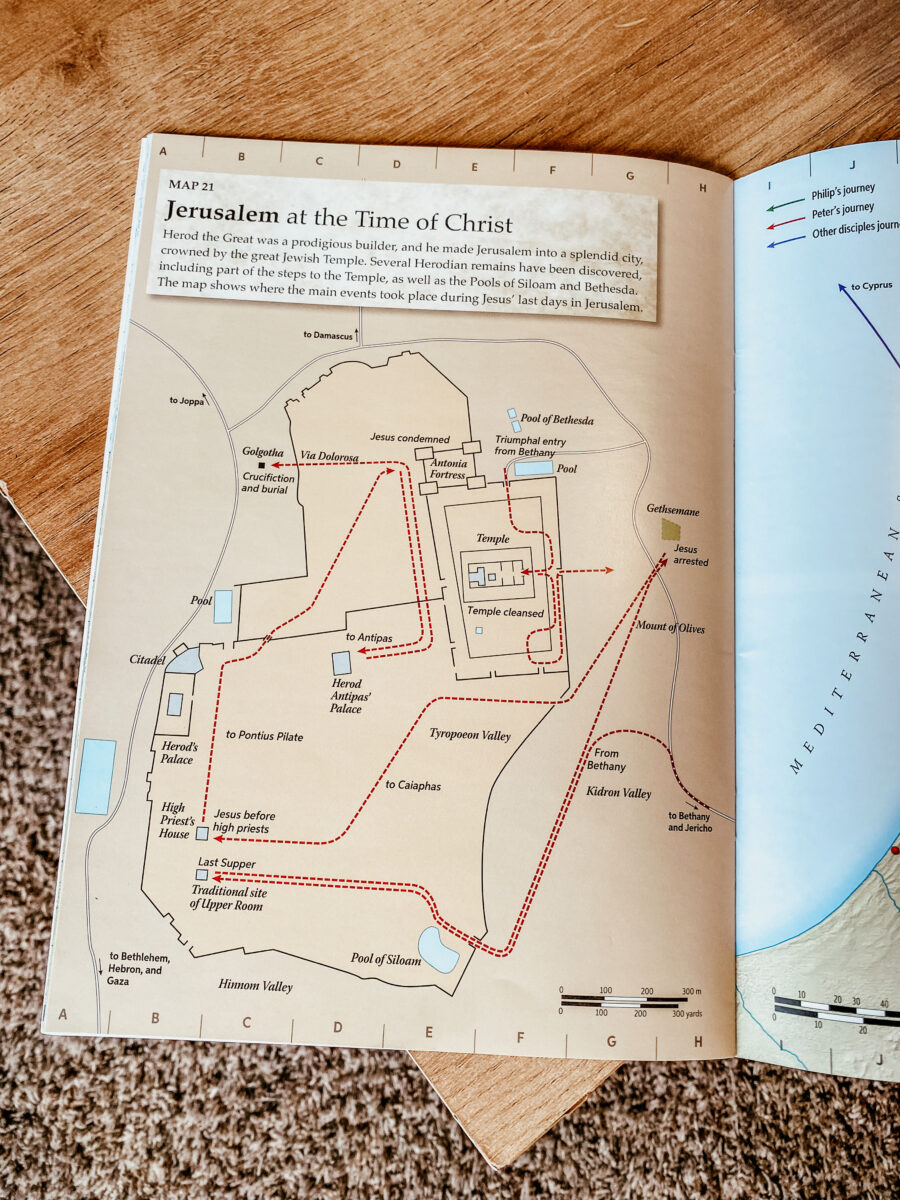 For the inspiring idea portion of the lesson, I pre-read our readings & include it as part of my lesson planning.
I also use a bible commentary for additional background and information around what we're reading.
My favorite Catholic Bible commentaries are these two:
We have been reading from our Douay-Rheims Bible for the majority of lessons. But I also have a vintage print New Testament from 1941 that is excellent (pictured above). It's from the Confraternity of Christian Doctrine.
Since this is a vintage edition, I don't have a link to share. However, I've seen it come up on eBay on occasion. So that may be something to keep on eye out for if you're interested.
---
---
Where would you like to start?